High Protein Vegan Meal Prep Cookbook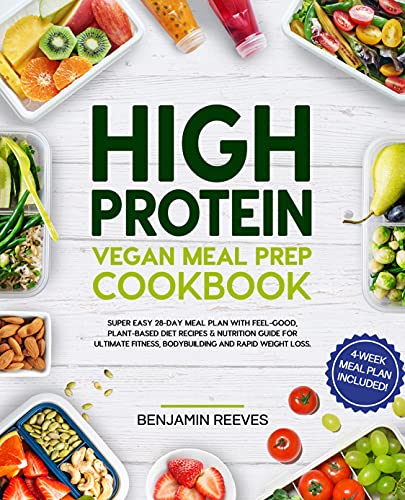 High Protein Vegan Meal Prep Cookbook
by Benjamin Reeves

Staying true to your diet while still getting all the nutrients and protein your body needs has never been easier!
Do you constantly think about the food you are eating and stress out by all the work that maintaining your diet requires?
Is it getting harder and harder for you to come up with fun and delicious ways to eat the foods that are actually good for you?
Maybe you feel like you're ready to just give up?
It can be hard to maintain a diet that is supportive of your lifestyle and also stress-free, especially in today's world of fast food and potato chips that all your friends seem to love so much.
Your dietary and nutrition focus shouldn't stress you out, though. You don't have to keep struggling just to stay on top of your health.
Following a plant-based and high protein diet should actually be one of the most energizing and uplifting things you ever do for yourself.
Forget about the worries or concerns of how, and just focus on your why!
Enhanced immunity, increased weight loss, and greater muscle development all while doing your part to also help save the planet -- this is what veganism is all about!
Let us take care of the rest for you!
With deeper insight into the nutritional value of your food, a plan of attack for how best to pair everything together, and some delicious recipes that'll leave you happily craving more, you'll soon find that maintaining your vegan way of life is actually effortless and completely stress-free.
In High Protein Vegan Meal Prep Cookbook, you'll discover:
A comprehensive list of the best high protein veggies, legumes, and grains ensuring you never run out of creative meal ideas
Why focusing on your vitamins and minerals is just as important as anything else, and how to incorporate them into every meal
7+ of the most powerful health benefits that come from a life without meat
Why top tier athletes from around the world are turning to a more plant-based diet, and what this means for you and your overall health
Breakfast recipes guaranteed to help you start every day fully charged and ready
Straightforward, simple shopping lists for each step of the way, so you don't have to even think about what you should or shouldn't buy
Tips and tricks from the pros on how to most efficiently prep your meals, saving you valuable time and energy
… and much more!
Enough with all the dreaming and wishing it was easier.
You no longer have to eat the same things over and over again. You can expand your food choices while staying vegan and still getting all the nutritious benefits your body craves.
It doesn't matter how much cooking experience you do or don't have, these recipes are as straightforward as they come. It's time to take the next big step in your health and fitness journey!
If you're ready to transform your vegan diet into one filled with fun, creative, and delicious food your friends are sure to be jealous of, then scroll up and click the "Add to Cart" button right now.