Helio Tropez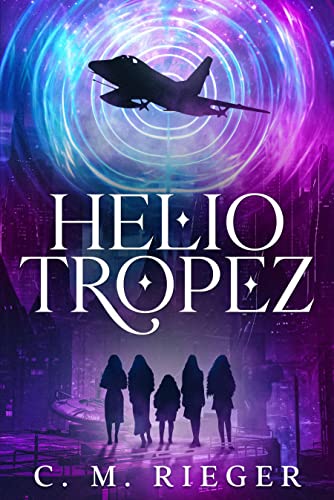 Helio Tropez
by C.M. Rieger

"I don't say this often, but I was genuinely hooked by Helio Tropez from start to finish!! " - Advanced Reader

"So captivating and uniquely creative! The characters are wonderful and the story is compelling. I also love how the book weaves in commentary on our present-day world with wise insights on how to address these issues." - Advanced Reader

--------------------------------------------------------------------------------------------------------------------------
What would you be willing to sacrifice to protect the ones you love?
Tia Violetta is about to turn 30. She lives in a mansion, barricaded away with her paranoid father, Haddon, who has shielded her from the world and her true heritage.
What Tia doesn't know, is that a sinister, hidden AI, known as SIM, has enslaved humans on Earth through mass mind control.
And SIM is hunting her.
Hadden and Tia are descendants of Helio Tropez, a subterranean safe haven where all inhabitants possess supernatural abilities, and speak in the Matrix language.
Tia discovers she bears the mark of Pentada, along with four other women in her family that she never knew existed.
Together Pentada have can alter the course of humanity forever. Unless their psychic powers were to fall in the hands of SIM.
Just before Hadden dies, he sends a telepathic message to his younger self to time travel fifty years into the future to save Tia.
But by doing so, young Hadden starts a chain of events that will blow Tia's world apart, sending them on two different timelines.
They must confront dangers in the subterranean and surface worlds to unite Pentada.
And only two possible outcomes await humanity. Will it be ascension to a higher density or complete annihilation of life on Earth?

----------------------------
If you liked "The Celestine Prophecy", "A Wrinkle in Time" or "Mists of Avalon", you'll love this.

This epic fantasy explores metaphysical mysteries, conspiracies and time travel mysteries that will stir the soul.