Heir to the Crown Box Set 1: Books: 1, 2, & 2.5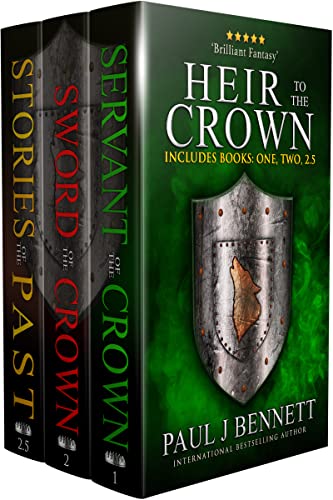 Heir to the Crown Box Set 1: Books: 1, 2, & 2.5
by Paul J Bennett

They are all that stands between victory and defeat!

After tragedy tears Gerald's world apart, he serves as a soldier for years until a single act of sacrifice cuts him off from all he knows.

Seeking a new purpose, a fateful meeting with another lost soul unmasks a shocking secret, compelling him to take up the mantle of guardian as the kingdom erupts into civil war.

Enter Dame Beverly Fitzwilliam, who has trained for this moment since she first held a sword. Swearing to protect their lives, they travel across the kingdom fighting desperate battles, surrounded by powerful enemies who conspire to bring down the Crown.

Their destiny will be determined in a monumental clash of forces where success can save the kingdom, but failure can only mean certain death.

Heir to the Crown is an action-packed medieval fantasy series. If you like epic battles, compelling characters, and a gripping story, then you will love Paul J Bennett's tale of a kingdom on the brink of war.

Grab your digital boxed set today, and watch the battle unfold!

Included in the digital boxed set:
Servant of the Crown
Sword of the Crown
Mercerian Tales: Stories of the Past

What readers are saying about Paul J Bennett's books:
★★★★★ -"Fantastic Fantasy!"
★★★★★ -"Epic Battle Scenes!
★★★★★ -"I'm hooked on this series!"
★★★★★ -"Exciting Sword and Sorcery"
★★★★★ -"Fabulously written, loved it."
★★★★★ -"Outstanding work of fantasy"
★★★★★ -"The most amazing adventure"