Half Notes From Berlin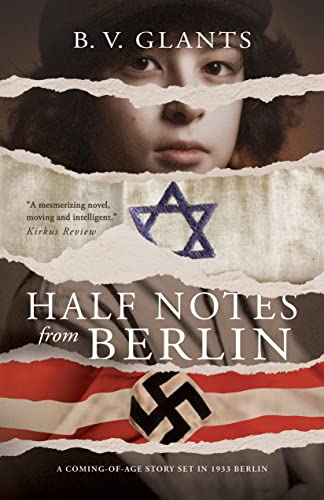 Half Notes From Berlin
by B. V. Glants

"...[a] beautifully written historical debut explores themes of identity and resistance...their gripping stories will stick with readers long after the last page." –BookLife Reviews - Editors Choice

"A mesmerizing novel, moving and intelligent."–Kirkus Reviews

Berlin, 1933.
Hans believes he and his family are safe from persecution.

Then, he discovers his family's dirty secret: his maternal grandparents were Jews who converted to Christianity.

Driven by the desire to understand who he is and whether his mother's blood is tainted, Hans befriends Rebecca, the only Jewish girl he knows. Perhaps if Jewish blood isn't evil, his mother will be ok.

To be a Jew in Hitler's Germany is dangerous.
But to fall in love with one is unthinkable.

Desperate to keep both his family's true heritage and his love for Rebecca a secret, Hans attempts to navigate this terrifying new world. He's disconsolate when his Jewish mother is kicked out of the Berlin Conservatory. He's disgusted by his Aryan father's aims to acquire Jewish business on the cheap.

Worst, he must watch helplessly as his classmates target Rebecca with increasing violence and malice.

But when his school announces it will expel Jewish students, Hans is determined to fight for Rebecca — and the lives and souls of his family.

⭐⭐⭐⭐⭐ "A beautifully written and moving historical fiction novel about a young boy coming of age during the beginning of the Nazi regime." -Reader's Choice

*****

The early reader reviews are in - see what fans of Boris Glants' epic WW2 tale have to say:
⭐⭐⭐⭐⭐ "A wonderful story of bravery, love, and the power of the human spirit. Highly recommend." –B. Evens, Netgalley Reviewer

⭐⭐⭐⭐⭐ "A well-plotted and paced narrative with emotional themes and unrequited love during war time." –CE Williams, RosePoint Publishing

⭐⭐⭐⭐⭐ "The characters felt like people that belonged in that time, I was so invested in their development. It was a respectful and beautifully done historical novel." –K. McLeer, Netgalley Reviewer

⭐⭐⭐⭐⭐ "Hans is a tragic figure caught in a changing world. B.V. Glants provides great insight into the struggles faced by German youth." –D.Viscosi, Goodreads