Guardians of Churchill's Secret Army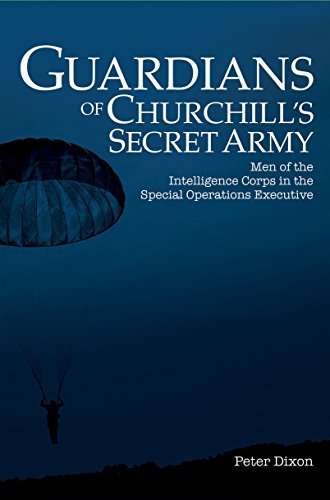 Guardians of Churchill's Secret Army
by Peter Dixon

Discover what kept Churchill's secret saboteurs alive - or didn't!
A single slip could lead to arrest, torture, execution. Who could be trusted?
The men and women who served as agents of the World War 2 Special Operations Executive were courageous. But courage was not enough. They also needed to learn the caution and suspicion that might just keep them alive, deep undercover in enemy territory.
Guardians of Churchill's Secret Army tells the stories of the extraordinary men who taught them those skills and thought processes. Their job was to stand alongside trainee agents and teach them how to seem innocuous while preparing resistance, subversion and sabotage.
These men were junior in rank, but far from ordinary people. They were Australian, Anglo-French, Canadian, Scandinavian, East European and British. They had been schoolteachers, journalists, artists, ship brokers, racehorse trainers and international businessmen. Each spoke several languages. Many became agents themselves and displayed great bravery. All played a crucial role in the global effort to undermine the enemy.
We find them not only in the Baker Street Headquarters of SOE, but also in night parachute drops, in paramilitary training in the remotest depths of Scotland and in undercover agent training in isolated English country houses. We follow them to occupied France, to Malaya and Thailand under threat of Japanese invasion, to Italy and Germany as they play their part in the collapse of the Axis regimes. Their stories are inspiring.
˃˃˃ Not just history, but the characters and their experiences brought to life.
If you like discovering the true stories that underpin the history of the Second World War, then you'll want to read this authentic book. In it, Peter Dixon shines a spotlight on a crucial area of the Special Operations Executive.
Buy Guardians of Churchill's Secret Army to explore a little-known aspect of World War 2 history!