Gourmands on the Run!: A gourmet travel journey from Paris to Monaco.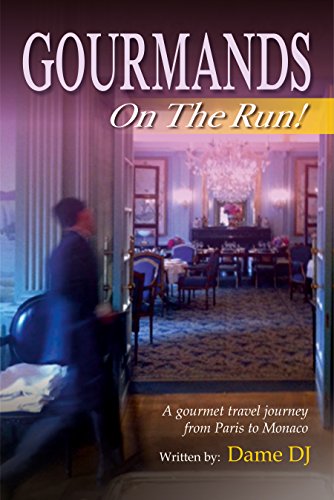 Gourmands on the Run!: A gourmet travel journey from Paris to Monaco.
by Dame DJ
Dame DJ is English and together with her partner 'S', a New Yorker, who loved great food, and wanted to sample the best that France had to offer, now tells us their story from the notes she kept.

He thought France was quite small, the best hotels & restaurants from Paris to Monaco would be waiting for them, while she thought she could eat, drink and relax and the trip would be a breeze. They were both wrong!
They hired a car to drive from Paris to Monaco, through the Loire Valley visiting Chateaux Amboise, Chambord, Chenonceaux, Montrichard and other beautiful towns, down through Provence and onto the Cote d'Azur. staying at Relais Chateaux along the way.

Gourmet dinning at some of the worlds most famous places, Maison Troisgros,Chateau de Codigant Colombe d'Or and the wonderful Bernard Loiseau etc, was to make it the trip of a lifetime, but reality took over.
It open up a whole new world of sensations, discoveries, joys, hardships, illness, intensity, beauty, talents, and artistry, all unique to France, and so they became 'Gourmands on the Run!'

Illustrated with delicate watercolours, done by Dame DJ along the journey, which survived against the odds.

Arriving hot, tiered and hungry, with, and without, reservations, ordering from oversized menus, paying some heavy prices, they were welcomed and looked after like long lost family one night at a time, then went back on the road.

They drove, they ran, they ate, they packed, then unpacked again, and again..and on every page we are right there with them, along for this amazing ride.