God Can Change Your Heart: How to Heal When You're Still Hurting And Don't Know Why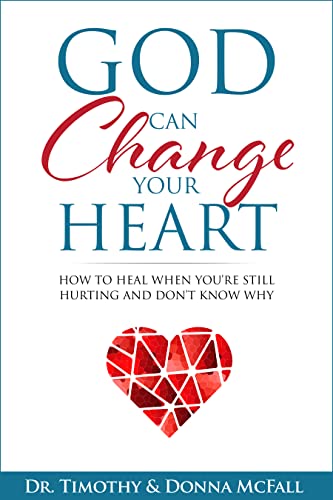 God Can Change Your Heart: How to Heal When You're Still Hurting And Don't Know Why
by Donna McFall

♥ Can you put the past behind and become who you were born to be? ♥
If you're still hurting and don't know why, this book was written just for you. Because God stands ready to heal even the hidden corners of your heart.
You can overcome past hurts and get set free from the unseen "emotional baggage" that keeps you weighed down, feeling like every day is a struggle. Put an end to your unanswered prayers and unsolvable problems.
This uplifting, practical book reveals seven keys that will change your life from the inside out.
You will discover:
✓ How the heart works, including why it hurts and how it heals.
✓ Practical ways to guard your heart against negative people.
✓ What it means to keep a clean heart that stays open to receiving God's best.
✓ How to listen in a way that makes people enjoy spending time with you.
✓ A simple strategy to instantly stop anxiety, worry and depression in their tracks.
Finally, a book about healing the heart from past hurts that's based on God's Word, not the wisdom of men. Thousands of people have already experienced the miraculous power of these seven keys. Now it's your turn. It's time for the next chapter of your life, so open your heart, open the book, and let the journey begin.
Bonus: Also includes details about how you can download your FREE copy of Powerful Prayers from the Heart.
Scroll Up to Buy Your Copy Today