Ghost Stories VOL II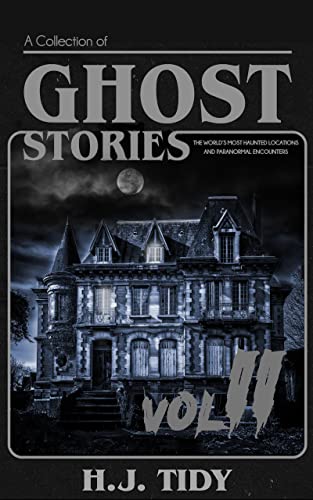 Ghost Stories VOL II
by H.J. Tidy

Behind every haunted house, there's a true story... and for every true story, there are countless eye witness accounts…
What's better than a good ghost story?
A true ghost story!
We've been telling ghost stories for centuries, with evidence of them seen as far back as ancient Roman writing… and all of those stories were based on people's true experiences.
There are plenty of reasons why you might want to read a ghost story…
Perhaps you've had a supernatural experience and you're looking for accounts from other people who've witnessed a similar thing…
Perhaps you've always believed in ghosts but you've never had firsthand experience of one…
Or maybe you just love them for entertainment and you're not fully convinced of the truth behind them.
Whichever camp you fall into, true tales of supernatural encounters are powerful. They bring people together in a shared narrative: The idea that there might be more to the world than science can account for.
And every story brings us one step closer to understanding what might really be out there…
Ghost Stories vol II is packed with accounts of real-life encounters with the supernatural. Inside, you'll discover:
8 unique stories of paranormal encounters – peppered with evidence that's difficult to ignore
The single greatest ghost story in American history
The unfortunate events of one of the most famous true crime stories of the 20th century
The most unusual tale of a haunted ship (a ship you can still visit to this day)
The real place that inspired the hotel in The Shining – with the eye-witness accounts that cemented it firmly into cultural significance
The Halloween attraction that was once home to America's most dangerous criminals – and exactly what made it the perfect place for a spooky tourist venue
The #1 most haunted location in the US – and the full story behind it
The chilling tale of Sallie… Was this little girl ever real at all?
The true stories behind the ghost stories – supernatural encounters are even more terrifying when you hear of the horrors that happened in the physical realm
Inconsistencies in the stories and alternative theories for every ghostly tale – delve in and make up your own mind!
And much more.
Behind every ghost story is a chilling truth… and whether you believe in the supernatural or not, you can't fail to be moved by the realities that paved the way for the stories.
Whether you're a supernatural skeptic or a firm believer, this collection of ghost stories will leave you transfixed, giving you all the theories and angles you need to get down to the truth.
Curl up and get cozy… and then prepare to be chilled to the bone: scroll up and click "Add to Cart" right now.