Getting to Know God's Heart: Discovering His Ways, Embracing His Love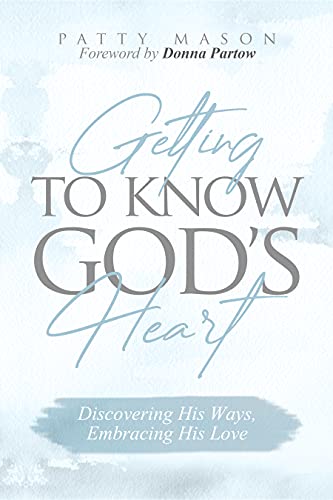 Getting to Know God's Heart: Discovering His Ways, Embracing His Love
by Patty Mason

♥ Tired of trying so hard to be the ideal Christian? ♥

If you feel like you're just going through the motions. If you think the Christian life is a set of beliefs and a list of things you should do. Then Getting to Know God's Heart is the book for you.
Patty Mason knows what it feels like to work hard trying to please God…and everyone else. But all her efforts left her spiritually and emotionally bankrupt. Then she made a dramatic discovery that changed her life forever. Now, she wants to share that revelation with you.
In this simple, straightforward Bible study, you'll experience the truth that God is for you…so you can stop living in fear. God's already got everything figured out…so you can let go of all anxiety.
Each session of this self-paced study features:
Bible verse
Brief teaching
Invitation to dig deeper with key passages
Scripture to meditate upon
A prayer for you to read or pray aloud
If you're looking for a Quick and Easy Bible Study that's focused on what matters most, your love relationship with God, then look no further.
Scroll up to Buy Your Copy Today
Twenty-five years ago, Patty Mason came to hear me speak at her church in Ohio. That day, she heard a still, small voice calling her to become a Christian communicator someday.
Since then, Patty has devoted herself to the study and teaching of God's Word. She founded Liberty in Christ Ministries and has appeared on numerous radio and television programs. She has also cultivated a growing awareness of the beauty of His presence in her own faith journey.
Fast forward to today! Now I'm honored to speak on her behalf and commend to you her no-nonsense approach to simple, straightforward Bible studies.
Everyone has a story to tell. And many top Christian books today are just that: stories about the author and her personal journey. This is not that. So if you're looking for amusing anecdotes and lots of fluff and filler, look elsewhere. But if you want a quick and easy Bible study that's laser-focused on God and His Word, then look no further. Getting to Know God's Heart is just what you're looking for!
Donna Partow
Million-copy Best Selling Author
Becoming the Woman God Wants Me to Be