From Refrigerator Chaos to Keto: Lost Recipes, Abandoned Diets, and Forgotten Foods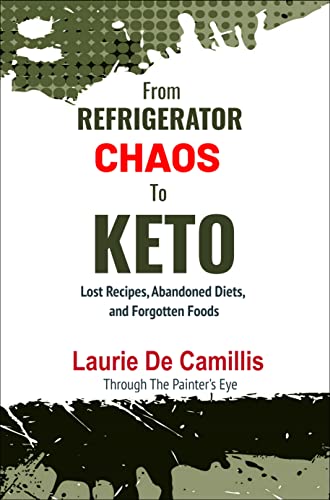 From Refrigerator Chaos to Keto: Lost Recipes, Abandoned Diets, and Forgotten Foods
by Laurie De Camillis
​Do you hate opening your fridge?
Do you struggle with your weight?
Do you have a love/hate relationship with food?

Through the Painter's Eye proudly presents Laurie De Camillis' Keto Diet journey uncovering the secrets she learned to clean her fridge, lose weight, and love food again! Through her drawings, reflections, anecdotes, and research, you will learn the keys to her success!

Do you have a situation in your fridge like Laurie did?

My fridge, stuffed with food, abandoned diets and unfulfilled aspirations of gourmet meals, mirrored my love/hate relationship with food. Inside were promises of delicious recipes unmade, food long past their due dates, and remnants of one yo-yo diet after another, my food history. The oozing, rotting food and wasted money sickened me. Because I couldn't bear to open the door, I survived on take-out fast food. Before I knew it, 50 pounds became my best friend, which I could not say goodbye to for the love of God. Knowing it was healthier to eat at home made no difference; I couldn't face my fridge.

This started Laurie on a journey to lose weight and regain her health. In Laurie's research, she discovered many interesting things about how and why we become addicted to food, why we get fatter on certain kinds of diets and healthier ways of eating to maintain good health and weight

You are Intentionally Manipulated, Without Your Consent, Into Addiction!
You are NOT at Fault!

Come join Laurie on her Keto journey as she explains how to clean your refrigerator, no matter how revolting it is, how food addictions develop, how the Keto Diet works, how to avoid food shopping temptations, and how to prepare and store Keto food.

Includes bonus meal planning and recipes to start your Keto journey.

What are You Waiting for? Get Started Today for a Healthier You!

Simply click Buy now with 1-Click - Change Your Life Starting Today!