From 0 to 500 Properties in Five Years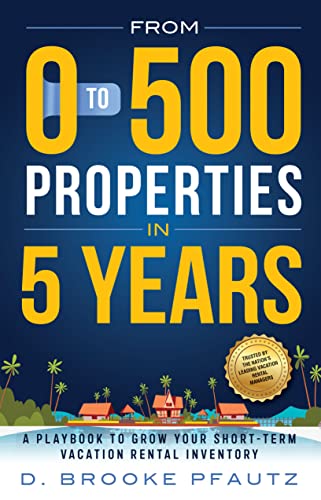 From 0 to 500 Properties in Five Years
by D. Brooke Pfautz

In the vacation rental industry, there are three levers you can adjust to accelerate the growth of your business: occupancy, rates, and property inventory. For the past few decades, our industry has been absolutely obsessed with two of them, while virtually ignoring the most important one. Why? Because the inventory growth lever is arguably the hardest one to turn. Not anymore.
Brooke Pfautz unlocked the key to inventory growth years ago when he grew his own business from 0 to 500 properties in just five years. Since then, he's compiled a treasure trove of property acquisition secrets, having now run inventory growth campaigns for more than 300 management companies.
This book documents Brooke's journey of discovery and lays out a concise playbook that any Vacation Rental Manager (VRM) can follow to accelerate their inventory growth. It's the default manual for adding new homes to your inventory and should be on the desk of any property manager that is truly serious about growing their business.