Fixing Avoidant And Anxious Attachment In Your Relationship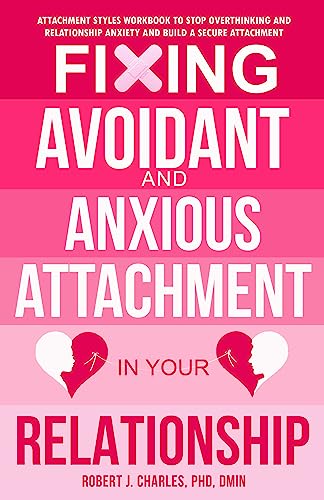 Fixing Avoidant And Anxious Attachment In Your Relationship
by Robert J. Charles

Do you always find yourself hoping and praying that your relationship will work while never actually taking the time to enjoy it for everything it is?
Are you someone who struggles to trust your partner, constantly overthinks, and ultimately risks pushing them away?
These types of feelings are common, but that doesn't mean you should have to endure them for the rest of your life. What I want to do right now is show you that when you come to terms with who you are and how your relationships work, you'll be able to break free from the underlying anxiety that always seems to be there.
If you want to get a feel for what I'm talking about here, consider what would happen if you gave yourself permission to stop worrying. You would find you have so much more mental energy to spend on the things you love in life, all while realizing just how wonderful your relationship really is. The real problems that actually exist become so much more likely to be fixed now that you're no longer distracted, and quality time becomes more and more common.
Now, you might think this all sounds too good to be true, and for a lot of people out there, it is. What makes you different? I'm going to personally connect you with a resource that will guide you through everything you need to know.
"Fixing Your Attachment Style" is the only way to change what's wrong and celebrate what's right. I know you can do this!
InsideFixing Avoidant And Anxious Attachment In Your Relationship, you will discover:
What attachment theory is and how it came to be
The role of childhood development in developing an attachment style
The four major types of attachment styles
Identifying your attachment style
How your attachment style impacts how you interact and relate with others
Why some attachment styles attract each other
Tools needed to change your attachment style
Overcoming jealousy and insecurity in relationships
Overcoming codependency and improving interdependence
What attachment styles exhibit codependent traits
Tips for building and maintaining healthy relationships
And a whole lot more!

One-click NOW will change your relationship!
You can be anyone you want to be, and all within the confines of a secure, loving, and caring relationship. It's all about finding a way to deal with your anxious self so there no longer feels like there are three of you in the relationship.
Let's make the change!