First Strike: Rebellion Begins – Military Sci Fi and Space Opera Thriller (Galactic Rebels Book 1)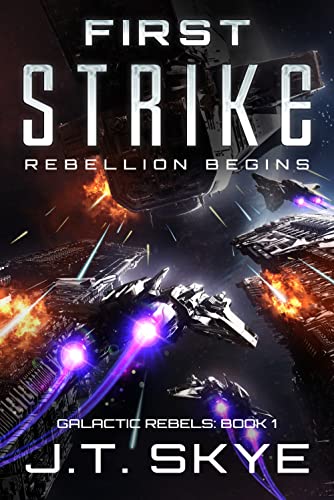 First Strike: Rebellion Begins – Military Sci Fi and Space Opera Thriller (Galactic Rebels Book 1)
by J. T. Skye

He just wants to run space cargo. Alien warlords want him dead - with a billion credit price on his head. Now, everyone with a gun and a spaceship wants to cash in.
But, humans are not easy to kill, especially a battle hardened Marine warrior from Earth.
He is angry, frustrated and uncertain about where his life is going, but knows one thing - he absolutely hates the arrogance of the wealthy elite who paid the billion credit bounty.
And, he'll make them pay with their precious, jewelry studded lives if it is the last thing he does.
They thought it should be easy. After all, he is just a human.
They didn't send enough ships… not nearly enough ships.
An addictive, heart-stopping, time bending military science fiction and space opera thriller you just can't put down, so, warn your family and friends you'll be away in an alternate universe for the duration. . .
Grab your copy right now, put on your battle armor and web into your ship-couch as you join Captain Derek Hamilton and his warrior crew on the ride of a lifetime, culminating in the exciting conclusion for Book 1 and the perfect next step for this exciting series - Galactic Rebels.