Fate of Wizardoms Epic Fantasy Saga: The Complete Series Book Set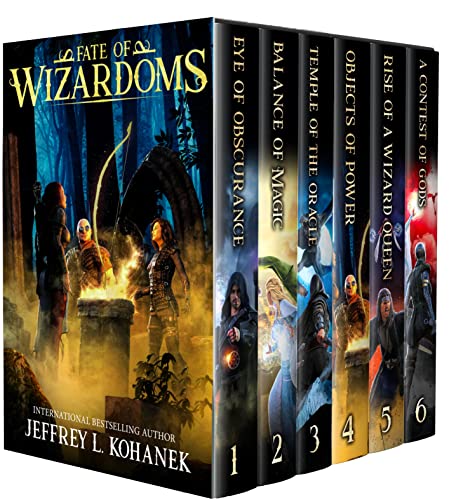 Fate of Wizardoms Epic Fantasy Saga: The Complete Series Book Set
by Jeffrey L. Kohanek

Misfit heroes caught between the schemes of mighty wizards and a contest of gods.
At stake: The fate of the world.
"Wonderful worldbuilding, an ingenious magic system, beautifully crafted characters, & fun filled adventure." ★★★★★ The Magic Book Corner

SPECIAL NEW RELEASE PRICE
For a limited time, you can purchase the bestselling Fate of Wizardoms saga in a COMPLETE series bundle, including books consisting of:
2,000+ Kindle Pages
4.5+ Star Average Review Score
2,000+ 5-Star Amazon Reviews
100K Individual Books Sold
25M Kindle Unlimited Pages Read
Download and discover why readers rave about Fate of Wizardoms.

Description:
____________________________________________

Power. The ambitious thirst for it.

But when a power-hungry wizard lord seeks to expand his rule, he triggers events unforeseen. The balance of magic is altered, races of old return, and beasts of legend stalk the land.

Unlikely heroes armed with magical objects are drawn into the conflict:
Jerrell "Jace" - A snarky, clever thief whose outrageous exploits force him to hide his identity.
Narine - A daring wizardess caught between her mad wizard lord father and jealous brother.
Rhoa - A determined acrobat, armed with enchanted blades and a thirst for revenge.
Rawk - Exiled for urges he cannot control; this dwarf possesses unique magic abilities.
Brogan - A disgraced warrior who labors beneath the weight of his regrets.

These characters lead a compelling and memorable cast including ruthless wizards who vie for thrones able to grant the power of a god. How do you defeat a god?

Fate of Wizardoms is a fast-paced fantasy saga filled with compelling characters and beloved genre tropes, perfect for fans of The Lord of the Rings, The Witcher, or Wheel of Time.

Download and discover why readers rave about Fate of Wizardoms.