Fast Track to Six Figures Online Using Simple Tech Tools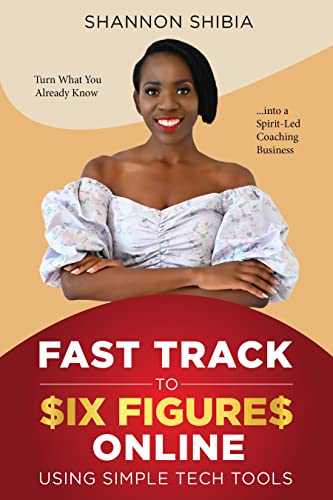 Fast Track to Six Figures Online Using Simple Tech Tools
by Shannon Shibia

Discover How a Spirit-Led Coaching Business Can Help You Balance Family & Financial Freedom
Have you ever wondered if it's possible to work while your kids are sleeping or doing school…and still make a great income? Are you determined to escape the 9-to-5, so you can work less and earn more? It's time to turn those dreams into reality!
Fast Track to Six-Figures Online Using Simple Tech Tools is your step-by-step blueprint for creating a flexible lifestyle and a profitable business. You'll discover how to:
✓ Set yourself up for success by putting God first.
✓ Attract your dream clients—people you will enjoy serving.
✓ Create simple systems to start and scale your business.
✓ Outsource your weaknesses, so you can stay in your zone of genius.
✓ Make a massive impact doing what you love.
It's time to discover how a Spirit-led coaching business can set you free to make the most of your gifts and talents without sacrificing your most important relationships. You can do it. With God's help and a few simple tech tools!
Because life is too short to live someone else's dream. Especially when you have the power to achieve every goal you've ever set for yourself…just by helping other people reach their goals.
And that's not all. On the book's pages, you can find out how to instantly access Shannon's FREE 5-Day "Jumpstart Your Coaching Business" training.
★ Scroll up to Buy Your Copy Today ★