Falling into Magic : Destiny Falls Mystery & Magic Series Book 1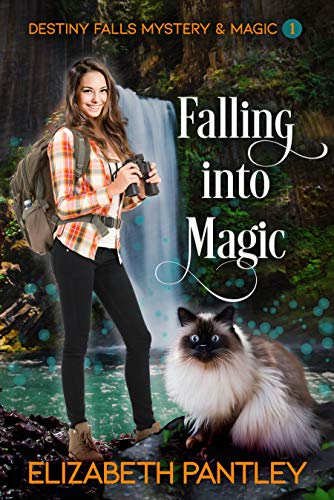 Falling into Magic : Destiny Falls Mystery & Magic Series Book 1
by Elizabeth Pantley

An accidental journey through a magic mirror. A portal to an enchanted land. A mysterious family she never knew she had. Hayden's life is upended with the wonder of Destiny Falls. But it is tainted by the danger that brought her here and that threatens her newfound family. Can Hayden and her sassy sidekick remove the threat, so that she can begin her magical new life in this captivating world?

~~~ Nominated by The Cozy Escape Book Club for BEST BOOK in the Cozy Escape Awards ~~~


…When Hayden was a child, she lost her cat. Adults told her the cat ran away, but she knew the truth. The mirror had taken her. She knew because the mirror gave her a glimpse of an alternate world and had nearly pulled her in, so she was certain the cat had suffered that fate.

Twenty years later, Hayden discovers the secret of the mirror when she is thrust into it. She learns of an enchanted world she never knew existed, and a family she never knew she had.

But danger brought her here, and it followed her. Now, Hayden is on a mission to remove the threat, so that she can begin her magical, meaningful new life in this enchanted world.

"Absolutely brilliant, delightful, magical story. This is one book that you cannot stop reading. More please, much, much more!" ~ Carol, Goodreads

"Oh my goodness this was SO GOOD!! Please do yourself a favor and read this book." ~ Prockish

"A captivating read! A great story, full of interesting people and places, with surprises around every corner." ~ Linda C. Goodreads

"This is no run-of-the-mill paranormal book! Unique ideas. You will be glad this is a series!" ~ Susan G. Amazon

"A magical, delightful tale with a quirky cast of characters, engaging dialogue, a pleasantly appealing universe, and an intriguing plotline that I could not put down." ~ Dru Ann, drusbookmusing.com

ABOUT THE AUTHOR
Elizabeth Pantley is the international bestselling author of The No-Cry Sleep Solution and twelve other books for parents. Her books are published in over twenty languages. She is also the author of the popular Destiny Falls Mystery & Magic series. She lives in the Pacific Northwest and is the mother of four and Nana to one. She hopes you have as much fun reading the Destiny Falls books as she has writing them. Visit her & sign up for her mailing list at nocrysolution.com.