Exquisite Justice (A Marc Kadella Legal Mystery Book 9)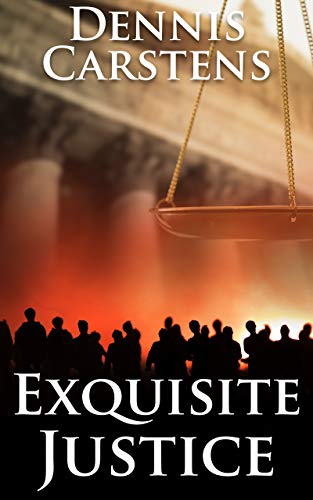 Exquisite Justice (A Marc Kadella Legal Mystery Book 9)
by Dennis Carstens
MIX THE "GOOD" REVEREND WITH THE DEVIL'S ADVOCATE
and all hell could break loose.
Minneapolis defense attorney Marc Kadella was hoping for a bit of peace after a failed homicide attempt in the form of a hit-and-run. But it's hard to keep the peace in the midst of a string of police brutality accusations leading to civil unrest. In his ninth courtroom drama and legal thriller, Kadella finds himself trapped in a web of racism and corruption—thanks to a drug ring orchestrated by a villain so manipulative even hard-nosed investigator Tony Carvelli's stumped.
After a twenty-year stint in an Illinois Penitentiary, drug-dealing murderer and rehabilitated gangbanger Damone Watson's cleaned up. Not only has he found Jesus in his new digs in the Twin Cities, he's also become a peacemaking darling of local Minneapolis media in the midst of a police brutality crisis. But not everybody buys his come-to-Jesus act—favored mayoral candidate Jalen Bryant and beloved black minister Lionel Ferguson included. And their motives aren't exactly virtuous.
Meanwhile, Marc Kadella's twiddling his thumbs in court—bored, even—while his new love and longtime confidante Maddy Rivers is on a divorce stakeout. She's agreed to tail the much younger husband of beloved old friend Vivian Donahue's troubled, drug-addicted niece, Nicolette. Seems the husband has, indeed, been having an affair with another older divorcee, but all goes awry when Nicolette shows up in the middle of Maddy's surveillance to calmly blow both the husband and the lover away. And then offs herself. Enter fan-favorite Tony Carvelli to investigate the husband who, surprise surprise, isn't at all who he seemed.
As tension in the cities continues to escalate—with media pieces aimed at the MPD fanning the flames—star defender Marc Kadella, gorgeous yet scrappy PI Maddy, the ever lovely Vivienne, and hard-nosed investigator Tony Carvelli all find their work loads intricately entangled in ways they never could have imagined. Because the body count's about to rise—and Marc's about to sign up to defend a cop accused of shooting an unarmed black man. Fed up with drug rings, gangs, police violence, and the connections between them, the mob-fueled Twin Cities are going to explode.
For those who like their legal thrillers with a dash of conservative commentary. Fans of John Grisham, Richard North Patterson, and of course the most beloved lawyer sleuth of all time, Erle Stanley Gardner's Perry Mason, will gobble up this one.