Etsy Business Launch: The Complete Guide to Making Six Figures Selling on Etsy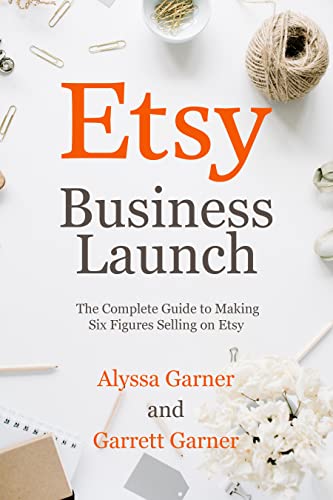 Etsy Business Launch: The Complete Guide to Making Six Figures Selling on Etsy
by Garrett Garner

This is the complete guide to selling on Etsy – fully up to date for 2023!
Imagine this. You wake up each day to a business that's entirely yours: the six-figure Etsy shop of your dreams.
You make an income that far exceeds that of your nine-to-five job through selling your unique crafts, artwork, or digital products to loyal customers who love your shop and are excited to buy from you.
You no longer answer to demanding bosses or unrealistic deadlines. Instead, you're free to just create and allow true passion to flow through your work.
If this sounds like the dream, then keep reading!
Does any of this sound familiar?
You've had an Etsy shop for a while, but find yourself frustrated with how little money you earn for your time. You look enviously at high-earning shop owners and wonder, "How do they do it?"
Or maybe you're brand new to Etsy and have no idea where to start. You're looking for a clear roadmap, so your business can be profitable right from the beginning.
Regardless of where you're starting from, you CAN launch, grow, and scale a successful Etsy business in less time than you could imagine with our easy and practical framework.
This complete in-depth guide to selling on Etsy in 2023 covers:
how to perform effective market research to ensure your shop will be profitable from the start
the key strategies that make the difference between a shop that succeeds and one that doesn't
how to set up your Etsy shop, create listings that sell, and fulfill orders like a pro
the secrets to mastering the Etsy algorithm, taking gorgeous product photos, and choosing profitable SEO keywords to ensure your items fly off the shelves
the must-know pricing formula that maximizes both sales and profit margins
how to provide excellent customer service that leads to happy buyers and repeat business
the simple process for receiving a constant influx of 5-star reviews on autopilot (plus, how to deal with the occasional negative review in a productive way)
the powerful marketing principles that will ensure your business succeeds in any economy
the social media strategy that results in massive sales (hint: it's not Instagram)
how to grow your email list, connect with your subscribers, and write powerful emails that sell your products without ever feeling "slimy" or "salesy"
an in-depth analysis of paid advertising and how to receive the greatest bang for your buck (plus, powerful growth strategies to triple your sales without spending a dime!)
the ins and outs of running a professional business, including setting up an LLC, mastering taxes and accounting, and establishing an online business presence—all presented in a non-technical and easy-to-understand way
how to effectively outsource and diversify, so your business can climb to new heights with less work and zero overwhelm
how to add a passive income stream to your business via printables and digital products, so you can earn money while you sleep
powerful mindset tips for avoiding overwhelm, banishing imposter syndrome, keeping up the momentum, and SO much more!

This step-by-step framework, developed by two entrepreneurs with nearly a decade of experience in the online business space, is your key to a thriving and profitable Etsy shop that you can be proud of. With our proven strategies and a bit of hard work, your shop, bank account, and life, could look drastically different a year from now.
So what are you waiting for? Let's start building the Etsy empire of your dreams!