End of Lies: A Political Thriller (Countless Lies Book 3)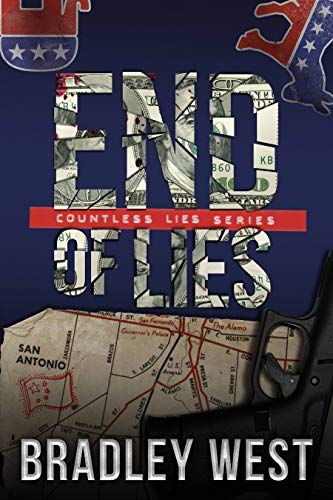 End of Lies: A Political Thriller (Countless Lies Book 3)
by Bradley West
TO SAFEGUARD HIS FAMILY, HE MUST BECOME A MURDERER

It's August 2014 and former CIA officer Bob Nolan is declared dead after a Russia missile destroys Malaysia Airlines flight MH17 over Ukraine. The president persuades Nolan to use his perfect cover to pursue "Mr. Love," the sinister leader of Higher Love, a right wing cabal no longer satisfied only with subverting US foreign policy. Two years later, covert operator Nolan has infiltrated Higher Love's IT network and has Mr. Love in his crosshairs when the president widens Nolan's brief to include Russia's 2016 election rigging deceptions.
An NSA traitor working for Russia identifies Nolan, and two arch nemeses—one ex-KGB and one ex-CIA—aim to kill him once and for all. Nolan stalks the hunters as he crisscrosses the country in pursuit of Mr. Love's identity and seeks sanctuary for his fleeing family.
Meanwhile, Higher Love finalizes plans for a right wing coup. A North Korea nuke is on the loose in the US compliments of China. Nolan's former lover and bitter enemy flies to the US to decide whether China will supply the arming codes. Love's double cross forces Nolan into the role of her rescuer. In the shadow of the Alamo, the ragtag team faces adversaries from every direction.
With victory in sight, Nolan is forced to choose one last time between family and country.
From Veterans of America's Secret Wars
"West creates realistic characters and deploys them in an intriguingly complex plot. The result is an enjoyable, fast-paced thriller that I couldn't put down."
Richard Holm, Best Selling Author

The Craft We Chose: My Life in the CIA
End of Lies provides compelling characters and meticulous research to deliver nonstop action. Just when you catch your breath, another showdown looms."
Howard Wasdin, New York Times Best Selling Author
SEAL Team Six: Memoirs of an Elite Navy SEAL
Praise for End of Lies
The author provided advance reader copies to a small audience in return for honest reviews.
In Countless Lies West nails the conspiracy espionage field
"I devoured the first two books in the Countless Lies series and End of Lies was no exception. Once again, I found myself unable to put the book down, reading it in three sittings. (Tip: don't read this book at bedtime, you'll never get any sleep.) Like the earlier books, End of Lies is meticulously researched, and the complicated, weaving and turning plots stand up to fact-checking scrutiny. Bradley West has more than delivered again, and the icing on the cake is that a fourth book is planned. Although third in chronology, End of Lies is the place to start as it is a layer or two less complex and really moves along."
Spaceman Spiff, January 2019