Elixr Plague Starter Pack: A Zombie Apocalypse Serial (Episodes 1 - 2)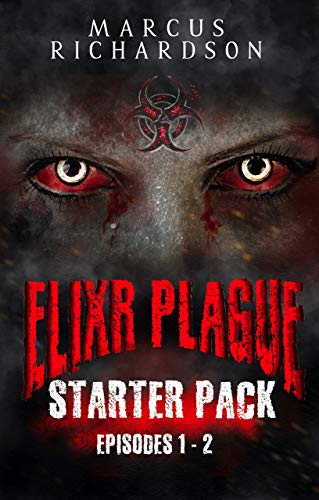 Elixr Plague Starter Pack: A Zombie Apocalypse Serial (Episodes 1 - 2)
by Marcus Richardson

This collection contains the first two episodes in the Elixr Plague zombie apocalypse serial.

Episode 1: Vector
Billionaire philanthropist Desmond Martin has spent a vast fortune developing a gene-edited miracle drug that will reshape the future of humanity and provide almost superhuman immunity to sickness and disease--and he's giving it away to the world for free.

But when terrorists hijack the release of Elixr at several key worldwide venues, replacing the drug with a gene-edited concoction of their own, no one is prepared for what happens next. As the world descend into chaos following the spread of the Elixr Syndrome and cities are quarantined, the infected begin to die...and come back.

From ex-special forces mercenaries, to geneticists, to a grad student trying to earn his doctorate, Elixr Plague is told through the eyes of a wide, diverse cast of characters from all walks of life. Because in the end, there are only two sides to the global conflict: the living vs the dead.

Episode 2: Infected
Elixr has been unleashed upon the world, and the clock is ticking. As cities fall, people do whatever it takes to escape, hide, and survive. For some, like grad student Darren Bruce, trapped in Sault Ste. Marie, Michigan, that means kill or be killed. Others, like Seneca Roberts and Pastor Alan Walsh, stubbornly cling to the ideas of faith, loyalty, and duty in a world that is crumbling right in front of them. As Elixr spreads, everyone will be tested, but only the strong, the smart, and the lucky will survive.

Elixr Plague is a serialized story of the zombie apocalypse and is told in small episodes, easily read and written, so the story can be published faster.