Echo Canyon Brides Box Set - Books 1 - 3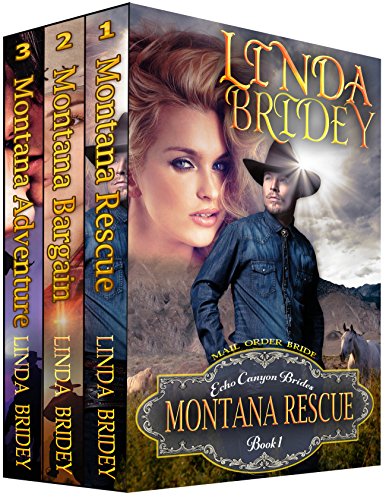 Echo Canyon Brides Box Set - Books 1 - 3
by Linda Bridey

Immerse yourself in the first three stories in the Echo Canyon Brides series that critics describe as "a wonderful blend of hope, passion, romance, mystery, and humor."

Book 1: Montana Rescue
Josie Bainbridge dreams of finding a husband, but there aren't any available men in Pullman. Evan Taft thinks mail-order-brides for the single men in Echo might save the town. Can he and Josie overcome evil forces and keep their love alive?

Book 2: Montana Bargain
Dr. Erin Avery and Dr. Winslow Wu, strike a bargain: Echo, Montana needs a doctor, Erin wants her own practice, and he wants a wife. They find love together, but a lurking darkness threatens to kill their dreams of happiness.

Book 3: Montana Adventure
Billy and Nina meet unexpectedly while returning to Echo Canyon. While on their adventure, they fall in love and wind up getting married. Will their love keep burning bright or will it go up in an inferno and die?