Dying to Die: The Janet Adkins Story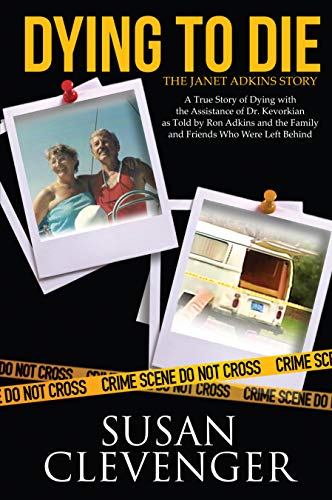 Dying to Die: The Janet Adkins Story
by Susan Clevenger
The true story of dying with the assistance of Dr. Jack Kevorkian, as told by Ron Adkins and the family and friends who were left behind.
Dying to Die: The Janet Adkins Story is the biography of a loving wife and mother who took control of her life, her death and her destiny. It is a gripping love story between two people and their mutual respect for one another's journey.
Janet Adkins, an unknown woman from Portland, Oregon, was diagnosed with early Alzheimer's disease. She and her husband became internationally known when she elected to be the first, and only person to end her life with the help of Dr. Jack Kevorkian using his controversial "suicide machine."
Nearly thirty years after Janet's death, intimate details of her life and choice to die are revealed, with reactions of her family, friends, and community. At the conclusion of the book, the reader is left with compelling food for thought that encourages them to consider the evidence and ponder the questions: Do people have the right to decide when and how to die? Should their doctor be allow to assist them? Should they be allowed the freedom to make a deliberate choice?
The path that Janet chose is not the path for everyone. We as individuals with the diverse backgrounds of social and religious beliefs will encounter many paths during our lifetimes. Everyone has the freedom to choose the path that rings true for them.
Scroll Up and Grab Your Copy Today!