Dred Dixon Chronicles: Origins : An Urban Fantasy Adventure Box Set (Books 1-4 + Bonus Material)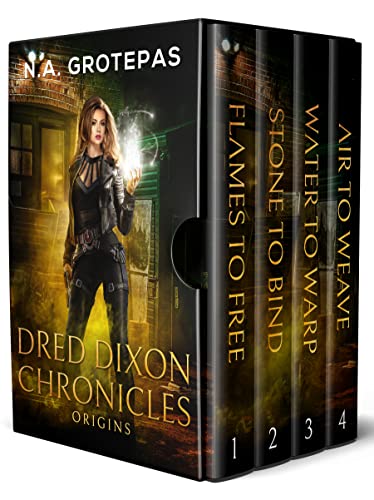 Dred Dixon Chronicles: Origins : An Urban Fantasy Adventure Box Set (Books 1-4 + Bonus Material)
by N.A. Grotepas

The first four books in Dred Dixon Chronicles. Over 1200 pages in urban fantasy adventure!
The forces of darkness take no prisoners. Neither do I. Coincidence?
I'm Dred Dixon (call me Mildred, my real name, and find out what happens. I dare you). My marching orders are to protect the hidden world at all costs. That's fancy-talk for "Neutralize the baddies." I'm murderously good at my job.
But now the Fates are meddling. They want me to stop killing so much. What am I supposed to do? Reason with monsters? Talk down demons? They may as well start digging my grave now.
The Fates always make things worse. I think I'll ignore them. Damned if I do. Damned if I don't.
Damn it.
If you enjoy Orlando A. Sanchez, Kimbra Swain, Shayne Silvers, John P. Logsdon, Michael Anderle, or K.F. Breene, you'll dig adventuring with Dred Dixon and her ex-NYC Flameheart, Hank Stone.
Included in this box set (over 315,000 words of intrigue, adventure, and action):
Book 1: Flames to Free
Book 2: Stone to Bind
Book 3: Water to Warp
Book 4: Air to Weave
Demonic Manifestation a 13000 word novella
When the 'real world' isn't enough, escape with Dred Dixon! What readers are saying about Dred Dixon:
★★★★ "Brilliantly detailed characters with action from the beginning. Fascinating and immersive storytelling which makes it very difficult to stop reading. Will definitely get the whole series."
★★★★★ "Well developed characters that become compelling companions on this adventure... This novel was very hard to put down. MORE."
★★★★★ "I left a little late for my first job today because my Kindle said I was at 95%. Just 5% more to read. I couldn't wait all day for the conclusion because... Well, just because I was so into this book I had to know the ending."