Dreaming of His Snowed In Kiss (Cowboy Mountain Christmas, Small Town Sweet Romance Book 4)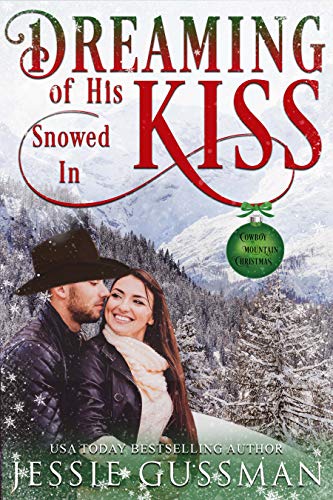 Dreaming of His Snowed In Kiss (Cowboy Mountain Christmas, Small Town Sweet Romance Book 4)
by Jessie Gussman

Everyone thinks Poppy Kyle is naturally happy and positive. But it took a major tragedy in her life for her to overcome her natural negative tendencies and develop a happiness attitude. She will not allow the surly West Barclay to steal her joy.
After West Barclay lost his parents in a car accident, he spent some time in foster care. Unfortunately, he fell in with the wrong crowd and saw just how rotten life can be. He still carries the scars. Poppy, with her perpetual smile and positive attitude irritates him to no end.
He couldn't think of a person he would be less inclined to be snowed in with.
So, of course it was Poppy who had delivered the church's supper to his ranch when the Snowstorm of the Century hit, closing down all roads and stranding two people who can barely stand each other together for a week.
Is it possible that they will see beyond their surface irritations and fall in love?

Reviews for Dreaming of His Snowed In Kiss:
★★★★★ "WOW. WOW. WOW. I can't tell you how much this author writes from he heart but she does and everything she writes is just amazing, wonderful and heart melting. All of her Christmas stories are unique and you won't be able to put them down until the very last page is read." - KRP
★★★★★ "Jesse does it again. Another soul reaching book that takes you through the heartbreak of life and the hope and love that is found in the ashes." - Supermom
★★★★★ "Jessie can bring grace and love and hope to the most dismal situations. You never finish one of her books without feeling uplifted and smiling. Her humorous takes on everyday situations in life are spot on and helps you get over the tough parts of life happening in her stories." - Wren
★★★★★ "This is a lovely story of life, loss, and having faith in yourself when you feel all is crashing around. This is a standalone story, but it is interwoven in the lives of a family built from heartache and through their faith in the Lord. This is one of those series you fall in love with over and over." - GreenJeepMom
★★★★★ "I'm feeling all kinds of feelings. Joy, peace, heartache, silliness, giddiness, so much love. I'm feeling them all. I'm wrapped up in love. And I'm sad. And I'm happy. It's the entire gamut of human emotions. What a great book. So very touching. West and Poppy are the best kinds of characters." - Janet