Dragonfly Maid: A Magical Adventure in the Royal Court (The Queen's Fayte Book 1)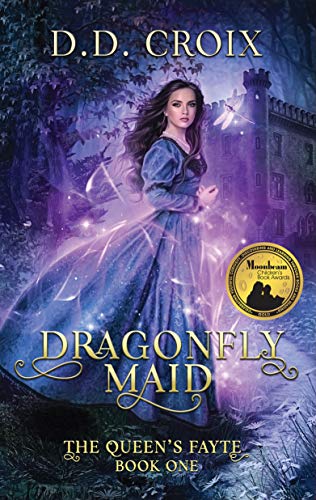 Dragonfly Maid: A Magical Adventure in the Royal Court (The Queen's Fayte Book 1)
by D.D. Croix

A memory thief. A magical dragonfly. A deadly plot against the Queen. Will Jane become a dark fae's victim, or has the monster met his match?
★ 2020 MOONBEAM AWARD GOLD MEDALIST
★ 2020 B.R.A.G. MEDALLION RECIPIENT
★ RECIPIENT OF READERS' FAVORITE'S FIVE-STAR SEAL
Jane Shackle is a young maid haunted by visions who is tapped to protect Queen Victoria by Fayte Guardians, a shadowy group of castle servants that claim a powerful ally from the fae realm.
But is she really hunting a killer, as she's been told? Or is she merely a pawn in their plot?
Jane must use her wits and master her abilities—with help from a peculiar dragonfly—to uncover the truth, save the crown, and ultimately confront an otherworldly enemy driven to destroy them all.
DRAGONFLY MAID is the start of a thrilling dark fantasy adventure series that weaves captivating mystery into the hidden corners of history to keep you spellbound. If you like clever heroines, beastly villains, and a slow-burn romance tangled up in magical realms, then you'll love this enchanting series from best-selling author D.D. Croix
RATING: PG (Clean)
COMPLETE TRILOGY
DRAGONFLY MAID (The Queen's Fayte Book 1) - available now
SLIVERING CURSE (The Queen's Fayte Book 2) - available now
SHADOW RITE (The Queen's Fayte Book 3) - coming July 2021
Scroll up to grab your copy of DRAGONFLY MAID and start the Fayte Guardian's magical adventure today!