Dragon of Shadow and Air Boxed Set One: Books 1-3 (Dragon of Shadow and Air Boxed Sets Book 1)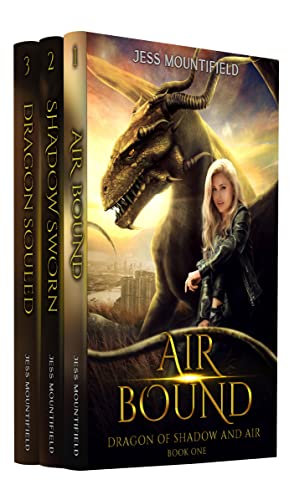 Dragon of Shadow and Air Boxed Set One: Books 1-3 (Dragon of Shadow and Air Boxed Sets Book 1)
by Jess Mountifield

The best-selling Dragon of Shadow and Air books 1-3 in one GIANT eBook!
Air Bound
Human, or elf?
A normal person, or an elven heiress?
Aella thinks she's leading a normal life in LA, making ends meet as a waitress. Until she finds something she wasn't meant to; A dragon's egg.
Now on the run from secret government agents and protecting the vulnerable hatchling, Aella finds there's more to her past and her parents than there seemed.
With no where to turn, Aella gets help in the unlikeliest of places and has her eyes opened to a secret world of mythical races and creatures living hidden among the humans of the world.
Can she find a place for herself and her dragon? Or is she bringing danger to everyone she meets?
Shadow Sworn
All things come to an end.
Hiding in the shadows works for Aella and her dragon for a while, but dragons grow.
With the world still in the dark about the existence of anything mythical, Aella must try and keep out of sight. But she's living in one of the busiest cities in the world.
Is LA really the best place for a dragon and an elf?
There's also a price to staying out of sight when the rest of the world can do as they please.
Can Aella and Zephyr truly ignore other mythical creatures and the agents who hunt them?
Dragon Souled
When secrets come to light.
On the run and looking for the invisible, Aella and her dragon are fugitives once more.
With nothing but a glowing orb to guide them and the few friends they have left in the world, they embark on the road trip of a lifetime.
But is the Sanctuary everything she was promised it would be?
The agency doesn't want to give up or admit defeat, and Aella and Zephyr have beaten them twice now. Will they truly let her slip through the net? Or are they going to find her no matter where she hides?
Scroll up and click Buy Now or Read for Free to grab your copy of Dragon of Shadow and Air Boxed Set One!
If you love dragons, and the special people who ride them, then you'll LOVE this action-packed series!