Destroying Magic (Randy Wolf and the Dropout Magicians Book 1)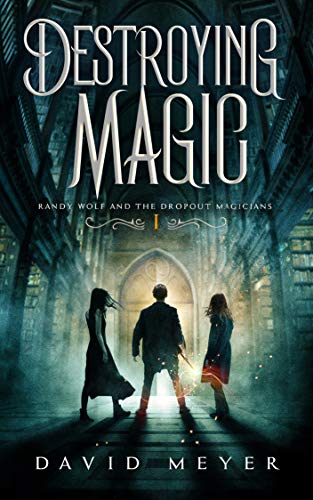 Destroying Magic (Randy Wolf and the Dropout Magicians Book 1)
by David Meyer

Last year, Randy Wolf was kicked out of the famed Roderick J. Madkey School of Magical Administration ...
Now, he's the only one who can save it.
Randy Wolf was once a promising young wizard, on track to earn a degree from the prestigious Madkey School. But then everything went wrong and he was forced to drop out. Lacking options, he became a lowly assembly-line magician at his former school, serving the high-powered faculty and arrogant student body. He thought things couldn't get any worse.
He was wrong.
As the Madkey School celebrates a new semester, a forgotten order of magicians launches a stunning attack. Others flee, but Randy bravely steps forward ... and straight into the center of a secret war. Many years ago, a great conflict nearly tore the magical community apart. Now, history is threatening to repeat itself. With the help of his fellow dropouts, Randy must uncover the truth about the distant past ... before it can destroy magic forever.
Penned by international bestselling author David Meyer, Destroying Magic is an amazing roller coaster ride, one full of jaw dropping twists and turns. Fans of Harry Potter and Percy Jackson will remember this book for years to come.

Get your copy of Destroying Magic today!