Demon King: A Novel of Horror and Supernatural Suspense (The Bloodletter Chronicles Book 1)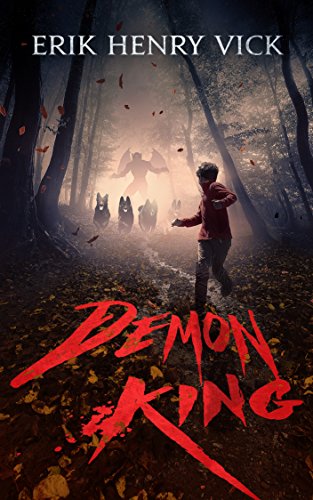 Demon King: A Novel of Horror and Supernatural Suspense (The Bloodletter Chronicles Book 1)
by Erik Henry Vick

2019 Top Shelf Book Awards Suspense First Place Winner
Only three children survived the terrors of Oneka Falls, New York in 1979.
Each of them paid a terrible price and had to survive as best they could—wrapped in fantasy, the comfort of amnesia, or the silence of self-imposed isolation. Twenty-eight years later, they are drawn together to once again face the town's horrible secrets--the horde of demons infesting Oneka Falls.
But the strongest of the demons is the one who terrorized them as children…
Can they survive another confrontation with the Demon King?
Critical Acclaim for Demon King:
★★★★★ "Vick's dark, tense thriller pits young kids—and their older selves—against a demonic evil and his twisted daughters in Upstate New York... Vick bounces the story line between eras effectively, and the tension never lets up. Stephen King fans will enjoy spotting the references that Vick sprinkles throughout in homage... [T]he thrills and horrors are engrossing."--Publisher's Weekly
★★★★★ "While favorably compared to Stephen King's IT––in particular––and King & Koontz in general, by hundreds of reviews, I found the novel just as close to Stranger Things..."--Robert W. Walker, TopShelf Reviews
★★★★★ "Vick's (Errant Gods, 2017, etc.) supernatural horror story is evocative of Stephen King's work in its use of a small-town setting and a gang of friends facing a powerful evil."--Kirkus Reviews
★★★★★ "What do you get when you mix elements of fear, mystery, suspense, foreshadowing and a perfectly gripping plot? Give up? Well… if all of these elements are woven together in a seamless piece of writing, you will end up with one fantastic horror story! This is exactly the case with Erik Henry Vick's novel, Demon King."--Leonard Tillerman, leonardtillerman.com
★★★★★ "Demon King is a novel that is impossible to put down. Gripping and intense are only two words to describe the effect of the story, but if horror is your pleasure, that is all you need to hear. Erik Henry Vick is certainly an author to fill you with nightmares. Fabulous story. I loved it!"--Melinda Harris, Readers' Favorite Reviews
★★★★★ "Demon King is a terrifying, thrilling and gripping novel that captivated as well as frightened me from the start...a unique novel with a multi-layered plot that is full of captivating mystery...did have me reading the book in the light!"--redheadedbookloversblog.com
What readers are saying:
★★★★★ "This book was like the old Stephen King…"
★★★★★ "The best horror story I've read in years! Read the entire book in two days, couldn't put it down!"
★★★★★ "Sophisticated and well written. Scary as hell."
★★★★★ "Awesome characters, and scary monsters. Fast paced, and creepy, creepy."
★★★★★ "This is a fast-moving, vivid tale, told with bright imagination and fresh ideas."
★★★★★ "Read it straight through - haven't had a book grab me like it did right from the get-go in a long time."
★★★★★ "This book is now on my list as one of my best 5 ever."
★★★★★ "…really excellent book, the type of classic horror novel that no one seems to write anymore…"
★★★★★ "If you love Stephen King or Dean Koontz, you will love this!"
★★★★★ "Right from the start of the book you are drawn into a dark world full of shadows and ancient evil"
★★★★★ "Great story that really hooks you in and keeps you up late to see what happens next."
Awards for Demon King:
2019 Top Shelf Magazine Book Awards Suspense First Place Winner
2019 Top Shelf Magazine Book Awards Horror Finalist
2018 Readers' Favorite International Book Awards Horror Finalist
This series has scared over thirty-five thousand readers. Now it's your turn.