Death Steals A Kiss: A clean mystery with a touch of sweet romance (A Taylor Texas Mystery Book 4)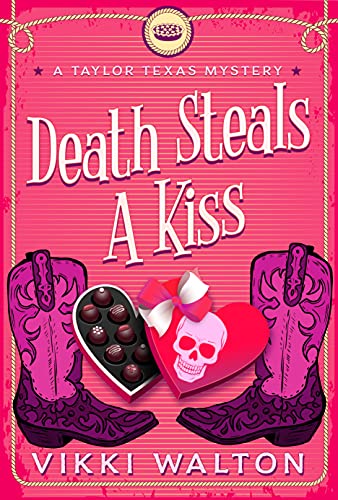 Death Steals A Kiss: A clean mystery with a touch of sweet romance (A Taylor Texas Mystery Book 4)
by Vikki Walton

Charming Hill Country Comfort. An Upcoming Gala. A Disastrous Death.

When pie-baking sleuth, Christie Taylor, now director of Horse Haven rescue, is confronted with a deadly accident at the rescue, she must confront the incident head-on. Was the man's death a tragic mishap or is someone out to sully the rescue's reputation, or worse, cause it to shut its doors? In order to protect the nonprofit, Christie's thrust into finding out what happened but when another incident occurs, can Christie uncover the truth before another tragedy occurs?

Clean cozy but with a hint of romance and a smattering of faith, enjoy the latest look into the residents of the Texas Hill Country. As always, a yummy pie recipe included!

Death Steals A Kiss is the fourth book in the down-home Taylor Texas mystery series by Vikki Walton. If you enjoy sassy sleuths and clever clues along with light-hearted humor and country values all tied up in a clean cozy mystery, grab this book today. Plus, each book includes a yummy pie recipe!

Each book is a stand-alone mystery but if you enjoy getting to know the characters, you may want to read the books in order to follow their friendships and romantic journeys.