Death of a Texan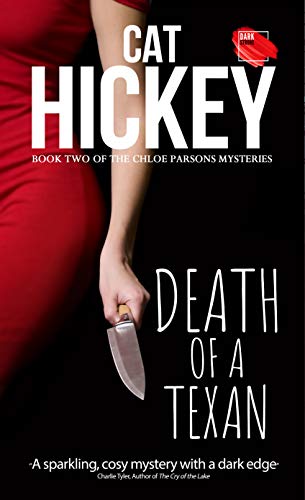 Death of a Texan
by Cat Hickey
The Chloe Parsons Mysteries:
1.The Bellhop Only Stalks Once
2.Death of a Texan

A grieving widow. A sketchy admirer. An adoring boyfriend.

But one of them is up to no good.


Chloe's new life in Costa Rica seems perfect: her relationship with Mateo isheating up, and her career as a private investigator is off to a good start.She only wishes that her cases were more interesting than the lost dogs orcheating husbands she's been hired for so far...


She gets her wish when a dead body lands, almost literally, at her feet. Hiredby the highly strung Elena Vargas to follow her husband, Victor, Chloediscovers that not only was he cheating on his wife - he's been murdered.


As Chloe delves deeper into the mystery surrounding Victor's death, sheuncovers secret after secret. The danger becomes all too real when she narrowsin on the killer's identity. Someone is following her everywhere, andthreatening notes arrive on her doorstep.


As if that's not bad enough, her relationship with Mateo begins to unravel, andhis coworker, Jaime, seems intent on convincing her that Mateo is a cheater.


Desperately trying to figure out what's going on, Chloe becomes more and moreenmeshed in a sordid world of lies, sex, and murder.


Who can Chloe really trust? And can she catch the killer before she becomes thenext victim?