Death And Deception (The Lazarus Codex Books 01-05)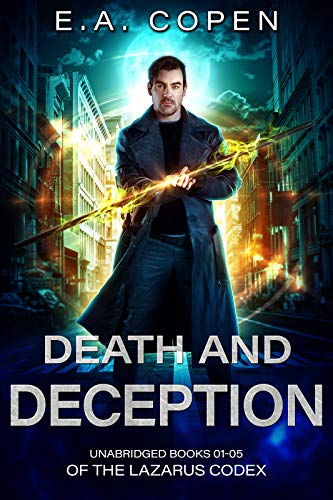 Death And Deception (The Lazarus Codex Books 01-05)
by E.A. Copen
If you like gritty action, snarky humor, and unique magic, then GRAB E.A. Copen's exciting urban fantasy series, The Lazarus Codex.
This collection contains the first five books of the popular Lazarus Codex series from preternatural storyteller E.A. Copen
An ex-con who talks with the dead. A bloody murder.
Figures they'd blame the guy with the record.
For Lazarus Kerrigan, The Big Easy is anything but easy.
Crime is up, incomes are down, and now his front door is a murder scene.
Talk about a bad morning.
Since Lazarus is the only ex-con around, the cops are ready to pin it all on him and call it a day.
If he wants to clear his name, Lazarus will have to find the murderer. Fast.
You'd think that'd be easy considering he can talk to the dead.
But more than monsters go bump in the night when the sun sets in New Orleans. The infamous Baron Samedi is back in town, and ready to offer Laz a new power he can't refuse.
At least, not if he wants to get out of this one alive!
READY TO BE SPELLBOUND?
Go up and click 'Read for Free' or 'Buy Now' and start reading Death and Deception today!
Death And Deception Includes the complete First Five Books in the Best Selling Lazarus Codex
INCLUDES:
Death Rites
Organ Grind
Shallow Grave
Knight Shift
Death Match