Daggers and Demons: A Contemporary Urban Fantasy Novel (Better Demons Series Book 2)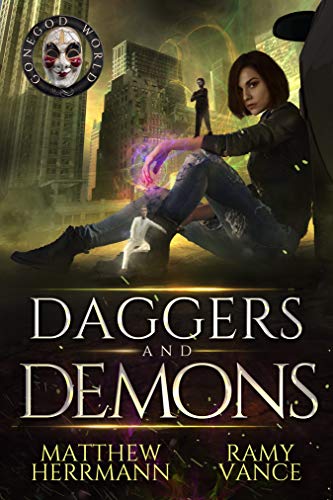 Daggers and Demons: A Contemporary Urban Fantasy Novel (Better Demons Series Book 2)
by R. E. Vance

When the gods left, they closed all their heavens and hells …

But they never took their dead.


Theo thought that saving Orion and ending Typhon would make her safer. Little did she know she was a pawn for something much bigger and someone far more sinister.

Humans have always been the pawns of gods …

In the Heart of Atlas, Theo fulfilled a destiny … just not her own. It turns out that even the gods have destinies. Nasty ones that don't play well with human life.

A new kind of apocalypse has begun.

An apocalypse that's not in any of the books. Theo, Simon and Garfunkel have one chance to stop this new kind of end … and almost no chance to survive it.


Over 120,000 words of octane-fueled magic and mayhem fill this tome.

BOOK 4: Axe Me No Questions

BOOK 5: No Better Demons

* We will release this as two mini-volumes sometime in the future.


From the twisted minds of Ramy Vance and Matthew Herrmann comes a new epic urban fantasy adventure unlike anything seen before.