Curse of the Vampire: A New Adult Urban Fantasy Novel (Immortal Relics Book 1)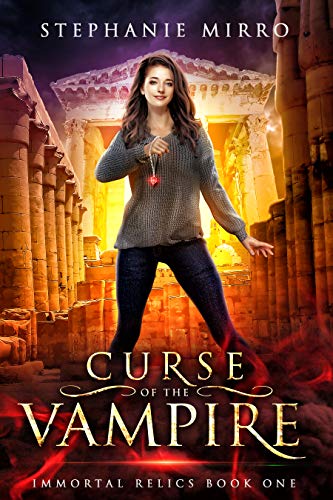 Curse of the Vampire: A New Adult Urban Fantasy Novel (Immortal Relics Book 1)
by Stephanie Mirro

When the Roman god of wine and chaos claims you as his own, death is sure to follow. The only question is whose.

Archaeology student Serafina doesn't believe in mythological creatures like vampires, witches, and ancient gods. But after unearthing an ancient Roman amulet, her dreams of drinking blood and violent magic leave behind an eerie sense of foreboding, and even a skeptic like her starts to wonder how real everything might actually be.

Serafina suddenly finds her life in chaos as a sinister cult takes a deadly interest in the artifact. She's thrown into a world that shouldn't exist, where vampires and witches alike claim ownership of the amulet. Her amulet.

As her connection to the artifact grows, she discovers a dark secret about her past. Serafina realizes she must protect the powerful relic at all costs—even if it means one of the people she loves most must die.

Previously published as BIRTH OF THE BACCHAE.

CURSE OF THE VAMPIRE is the first book in the IMMORTAL RELICS urban fantasy series. Fans of the Chicagoland Vampires, Buffy the Vampire Slayer, the Iron Druid Chronicles, and Roman mythology will love this blend of magic, mayhem, and wry humor. Scroll up and one-click to start this thrilling adventure today!

This book contains content deemed suitable for ADULT audiences with scenes that include attempted assault, violence, and torture.