Cunning Devil (Lost Falls Book 1)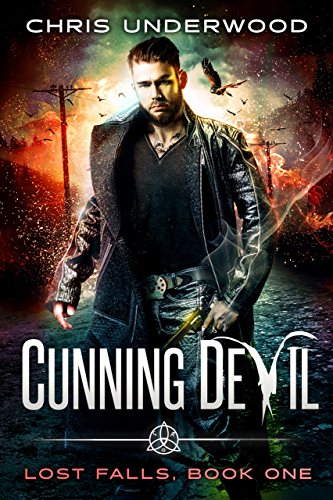 Cunning Devil (Lost Falls Book 1)
by Chris Underwood

Breaking curses. Battling witchcraft. Revenge.
All in a day's work for Ozzy Turner, folk wizard.
Is a witch throwing curses your way? Something scary scratching at your window in the night? Then I've got just the charm for you.
Mostly, though, I find things. Lost treasures, missing loved ones—if you need something found, I'm your guy.
So when a grieving father hired me to track down a family heirloom stolen by a sticky-fingered hobgoblin, I was happy to help.
No one was supposed to wind up dead. Especially not me.
But they made a mistake when they put a bullet in my stomach and left me for the worms.
They didn't bury me deep enough.
If you like Jim Butcher, Kevin Hearne, Shayne Silvers, M.D. Massey, or Orlando A. Sanchez, then you'll love taking a trip to the sleepy town of Lost Falls, where not everything is as it seems.
What readers are saying:
"This is everything an urban fantasy should be."

"Chock-full of intricately twisted & intertwined plots that kept me guessing to the very end."

"Just the right amount of tortured protagonist, camaraderie, humour, mystery, humanity, splatterhouse, folklore, modern twist, darkness and hope."

"A refreshing change of pace."

"He weaves complex plots that are full of action, impossible choices, and unusual alliances."

"Anyone who likes Jim Butcher, Kelley Armstrong, or Kim Harrison should really give Ozzy a try!"

"The mysteries are woven so masterfully."

"Chris Underwood will be one of the urban fantasy greats."

"As richly detailed and engaging as any of the big authors in the field."

"Well-developed characters set in a world worth exploring."