Crown & Crosses Box Set : A Steamy Scottish Medieval Romance Novel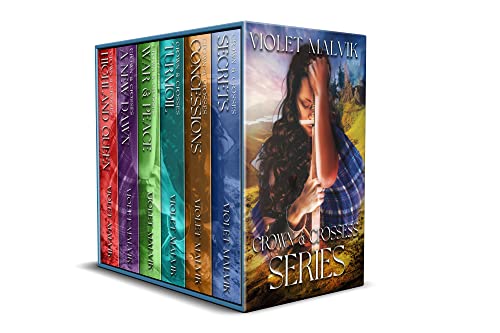 Crown & Crosses Box Set : A Steamy Scottish Medieval Romance Novel
by Violet Malvik

Order now for $0.99. Goes up to $3.99 on the April 7!
A woman destined to lead men through victory and death…
A man sworn to protect her at all costs…
A merciless battle to seal their fate forever.
The land Maisie calls home is rummaged as hordes of barbaric soldiers and troops invade their kingdoms. Resigning from marriage and her duties as the daughter of a Laird, Maise throws herself into battle without a second thought. Soon, the only glimmer of hope amongst the despair she faces is someone who knows how to set her heart ablaze. Evander is a man her father would never approve of, but when they are both caught in the whirlwind of their passion, the fire simmering between them threatens to consume them both amidst the chaos.
In the kingdoms of the South, the hurt feelings of a once-suitor and an old friend with a dark past seem to shadow her every step. No one is what they seem while a whole new world of treachery and diplomacy unfolds before her. The nine kingdoms suffer tragic losses and face forces beyond their power, and when skilled warriors answer the cries of war, Maisie is amongst them, defending her land and her clan in their efforts to reclaim Olong. If Maisie could take over as Laird, nothing would stand in her way–nothing but her own weakness. Kingdoms are plagued and rummaged. Alliances are forged and shattered in the blink of an eye. Will they manage to stay strong together when everything around them strives to tear them apart?
Passion, nail-biting action, and heart-wrenching twists and turns... all locked in a must-have boxset for every Scottish Romance reader. Dive into Crowns and Crosses today, and unlock an adventure unlike any other.

Perfect for fans of Tanya Anne Crosby and Kathryn Le Veque.
Book in this series
1. Secrets
2. Concessions
3. Turmoil
4. War & Peace
5. A New Dawn
6. A Highland Queen