Crimes of Love (Based on Lies Book 1)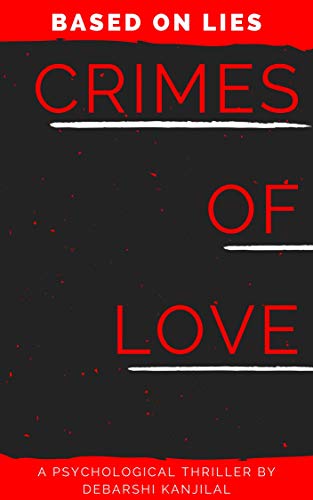 Crimes of Love (Based on Lies Book 1)
by Debarshi Kanjilal
In this disturbing tale of Anurag and Aditi, there are no innocent people!
What readers said
"The book is a gripping psychological thriller which reveals a new twist page after page and layer by layer." - Bookgeeks.in
"An unusual read, go for it if you enjoy thrillers, this one will definitely be one of it's kind in your reading list." - MerryGoReviews.com
"The use of imagery is also worth mentioning. The descriptions of the menacing sound of the ceiling fan, the dirt-smitten table clock, the mysterious kitchen at the Eastern Delight are so vivid that they add to the eeriness in the mind." - NayanBasu.com
"It's short, fast-paced and thrilling at the same time. fans of Chuck Palahnuik's writing, this novella is definitely for you!" - Amandeep Mittal
"Tells us a dark and sinister tale of a man called Anurag." - Sankalpita Singh
"A dark twisted tale, intriguing nevertheless. New surprises in every chapters... it was unputdownable and literally completed the book tonight only after purchasing it from Amazon this evening." - Shankha Mukherjee

The Plot
Anurag is a disturbed young man drudging along in an unhappy marriage for the last five years. To make matters worse, he has developed insomnia. As he sits awake every night, he reminisces and recounts memories, in a diary, that are too dark to share with anyone in person.
The diary gives him a release but he remains oblivious to the potential consequences of the diary becoming public, considering the inconceivable confessions he has made to it.
A string of women seemed to have been able to find love and comfort, at various times, in this abominable man. But does Anurag himself believe that there is still some good in him?
Can a man this far resigned to life have any hope of redemption? Can he find any reason to finally commit to making a change?