Comes the Winter (Sawtooth Range Book 2)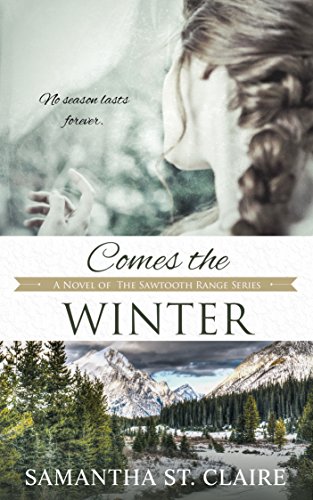 Comes the Winter (Sawtooth Range Book 2)
by Samantha St. Claire

This is her last chance and she won't allow man or nature to rob her of what she's worked so hard to claim.

In the fall of 1886, Alena Sommer leaves behind a life fraught with disappointments and loss only to arrive in Sawtooth City and find the man she'd pledged to marry has been killed. To return east is unthinkable; to stay is ill-advised, but she resolves to remain and manage the man's lodging house despite the warnings of winter's deadly storms. More than her stubborn nature influences her decision. From her first glimpse of this mountain valley she falls captive to its wild beauty and begins to sink her roots into its rich earth. Sharing her love of literature with her lodgers before a warming fire, she builds a family of lonesome souls, where dreams awaken.
However, one man stands apart, disturbing her peace with ominous warnings to leave before winter comes. Evan Hartmann knows from personal loss that winter snows bring to these mountains both unimaginable beauty and death. He is also a man conflicted, because as much as he'd like for Lena to leave the mountains, his heart longs for her to stay.

"Rich descriptions and entertaining characters bring to life the beauty and struggle of life in the 19th-century West. This cozy tale grounded in the everyday will surely delight historical romance fans." – Publishers Weekly Starred Review

Lush landscapes, relatable characters, and compelling stories of courageous women are the hallmarks of Samantha St. Claire's historical fiction.

Be inspired. Fall in love. Discover your next favorite author with COMES THE WINTER.