Ciphercraft Books 1-3 : A Portal Fantasy LitRPG Box Set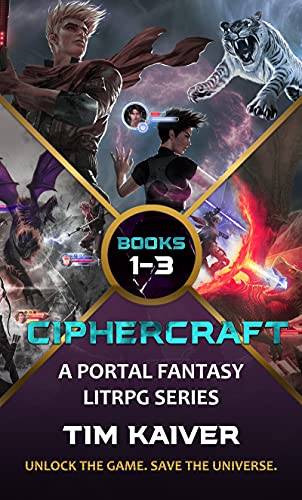 Ciphercraft Books 1-3 : A Portal Fantasy LitRPG Box Set
by Tim Kaiver

When the system that time forgot suddenly shows back up...
The Cipher ran the universe with its game-like rules, and it has chosen Cullen, an exiled bounty hunter, to be the method of its return.
He's given a quest to free a telepathic mother and son from wrongful imprisonment. If he can break his targets out of prison, they'll have to level up, learn new skills, and hunt down the prophecy's clues. All while facing down berserkers and EMP-hurling tigers, in a jungle that offers no succor.
The promised reward is that the Cipher will grant access and the associated power to all of his embattled people, turning the tide in the galactic war that's ravaging the cosmos.

The Ciphercraft series is influenced by party-building, multi-class RPG games like Final Fantasy, town builders like Age of Empires, and a mashup of classic novels like Dune and Dragonlance. Inside you'll experience a story of hope-filled, dog-tough adventurers gaining extraordinary powers right when their people need them the most.

With one book left to complete this epic tale, there is no better time than now to start reading. Portal Wars is coming soon.

Reviews:

Cipher's Quest (Book 1)
⭐️⭐️⭐️⭐️⭐️ "Fell in headfirst. The world is deep and kept building. Some readers in this genre like less world-building, but I'm crazy for it. Had a Dune like feel to it, pushing sci-fi and fantasy together." - TJ Reynolds, author of Eternal Online

Windwalker (Book 2)
⭐️⭐️⭐️⭐️⭐️"This is a great series with great characters and a unique storyline that keeps you interested throughout. Looking forward to book 3!" - Cody Whitfill, author of Clearing Waves

Resurrection City (Book 3)
⭐️⭐️⭐️⭐️⭐️ "If you like LitRPG it was a good story for that. But it was also a good story for the sake of the story." - Christy, Top Contributor: Fantasy Books