Chase Me Home (Bridge to Abingdon)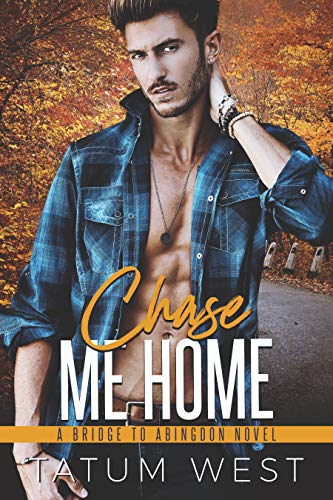 Chase Me Home (Bridge to Abingdon)
by Tatum West
Elias:
The night of my high school graduation, I broke my first love's heart. Despite our innocence, I didn't believe a happily-ever-after would be possible for me. I was convinced I had to be straight. Since then I made my life picture-perfect through sheer force of will—I built a billion-dollar company, married a good girl and even gave her a child. People think I'm a cut-throat as$hole, but my attitude got me exactly where I wanted to go.

Until it all came crashing down. The company fired me for bad behavior, the wife left, and the worst part of all, she took my daughter with her. Now the only place I want to go is Abingdon, the home I left two decades back. My first night in town, I run right into the six-foot-four, sculpted vision of perfection that is Zane Chase—the same boy I loved all those years ago.

Zane is an artist, a damn good one. I offer him a few million to work with my new business, and he accepts. I've never really been with a man before, other than those few kisses I stole from Zane. But Zane is patient and kind, and when we're together, anything seems possible--even a happy ever after. Until my ex drops my daughter with me and disappears from both of our lives.

Now I'm not just an unemployed as$hole in a small town, I'm also a single dad to a traumatized kid whose mom has vanished. My sweet girl doesn't trust me, and I desperately need a crash course how to be the parent she really deserves. I thought Zane might give me a second chance, but he's too good to drag into this mess I've created.

Zane:

Elias Spaulding is a total d*ck. He's abrupt, rude, presumptuous--seems he never learned any damn manners. From the perfectly tailored suits to the wild business ideas and fast cars, he's everything I should hate. Instead he's the most fascinating man I've encountered in years—and deep down, he's the same boy who stole that first kiss from me in the darkness of my dorm room.

The more I get to know him, the more I realize that his gruff personality is just a façade. Beneath all of his bluster is a man who wants a real life—a home, a family, and someone to love. I was never the kind to settle down, not since I left Abingdon for New York. But there's something telling me that Elias might just be worth all the trouble he causes.

I'm falling in love with Elias, whether I like it or not. And I can see myself here, in Abingdon, building a life with him and his daughter.

Just when things start going well, a dangerous ghost from Elias' past appears, threatening everything we've built together. Elias keeps trying to push me away in the midst of all this drama, but this time, I'm not leaving.

Elias Spaulding was my first love, and now he is my home. I won't let him go without a fight.


Chase Me Home is the third novel in the Bridge to Abingdon series. Each book focuses on one amazing couple, and each can be read as a fabulous standalone read. Chase Me Home has steamy first-time love scenes, a lot of family drama, some adorable kittens, a British nanny, and a much needed update for Jackson Academy. Elias and Zane are the hope of Abingdon, and they're working hard to bring it into the twenty-first century. Enjoy!