Changes In Me During Puberty: Parents Edition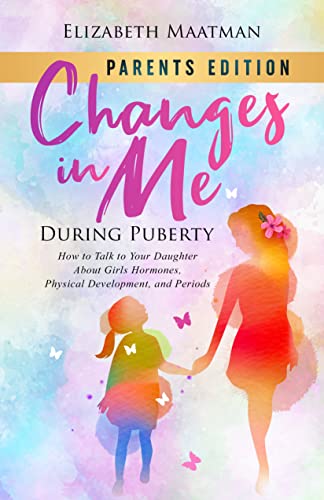 Changes In Me During Puberty: Parents Edition
by Elizabeth Maatman

Discover How to Talk to Your Daughter About Puberty and Celebrate Her Changes Even if You Think It May Be Uncomfortable
Are you happy to see your daughter growing up but DREADING having to explain all the details?
You understand that puberty is a normal part of life, but you're worried about how to explain it to your little girl without it being awkward.
It feels like yesterday that she was just a baby, and you can't believe that this stage of her life arrived so quickly.
If this sounds like you, then don't worry; Elizabeth Maatman has the answers you're searching for.
Puberty is one of the first signs that your daughter is growing up―and that's something to be celebrated.
The problem is that for most girls, going through puberty sucks. There are periods, cramps, acne, mood swings, body odor, and the list goes on.
For many, periods are not just an inconvenience—it's a significant life issue that forces sick days, increases self-consciousness, and causes new emotions.
How can you explain this to your daughter?
If you're a parent who:
Has a daughter who's at the age when her first period is about to come;
Doesn't know how to talk to their daughter about the changes her body will go through;
Thinks that puberty is an uncomfortable topic to discuss;
Wants their daughter to have the best advice when it comes to her new body;
Has a daughter who may be hiding that she's going through puberty;
Wants their daughter to know they can always talk to you or your partner about puberty;
Has a daughter who feels very self-conscious about her body;
then Elizabeth Maatman can help you.
Many parents decide not to talk to their daughter about puberty, but they miss out on a once in a lifetime opportunity to build a new type of trust in their relationship.
The first step to talking to your daughter about her hormones, physical development, and periods is remembering that this is a celebration, and not something to "get over with."
In Changes In Me During Puberty: Parents Edition, here is just a fraction of what you will discover:
How to explain to your daughter what she is or will be experiencing, so it's easy for her to understand
How to prepare for her first period and choose the right products
How she can remain calm through mood swings and improve her self-esteem
Tips and tricks to keep acne under control and tackle body odor
What exactly will be happening to her breasts, and why it doesn't have to be scary
And much more.
Even if you think your daughter may not want to speak about this topic with you, it's important to remember that this may be a confusing stage in her life, and it's necessary to give her space until she is ready.
When she is ready, you need to be prepared.
If you don't take action, nothing will ever get easier. Your daughter is waiting; you can help her by scrolling up and clicking the "Add to Cart" button now.