Casey Jones Mysteries Vol 1-3 (Casey Jones Mystery Series)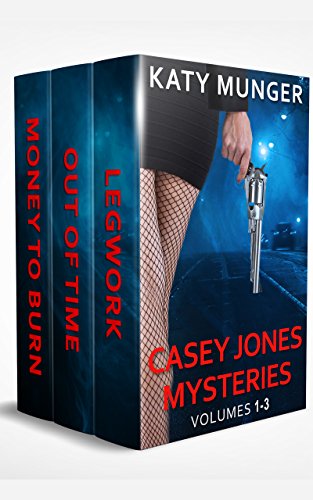 Casey Jones Mysteries Vol 1-3 (Casey Jones Mystery Series)
by Katy Munger
THREE HARD-BOILED PAGE-TURNERS AT A RIP-ROARING PRICE!
"Casey Jones joins the ranks of smart and gutsy heroines. The South will never be the same. Don't miss her."—Janet Evanovich

"Fast-paced and action-packed...The charm here lies in Munger's writing, which is silky-smooth and packs a wallop."—I Love a Mystery

"She is smart, tough, and tenacious…a wonderfully entertaining read."—Publisher's Weekly

Big, badass Casey Jones, the smart-mouthed female PI with the thunder thighs and the bunny-soft heart, has everything you could possibly need to be an ace private investigator – except an investigator's license.
Fifteen years ago, this hard-boiled babe walked out of a Florida prison after serving an eighteen-month sentence, sporting 160 pounds of "nobody kicks my ass" and a couple of inches of dark roots at the base of her bleach job ("simply to confuse people into underestimating me") and swearing she'd never set foot in a prison or trust a man again. Trust, no. But by no means has she given them up. She can love with the best of them, but when it comes to lust she's in a class by herself.

LEGWORK, Vol. 1
Author Munger masterfully blends nail-biting suspense with Casey's hilarious wisecracking narration as she navigates an unsavory southern stew of crooked politicians, crooked business deals, old grudges, ancient crimes, and everyone's favorite, dysfunctional families.

OUT OF TIME, Vol. 2
The family of a death row inmate just isn't buying the story that she killed her cop husband, and they've hired North Carolina's mouthiest female sleuth to save her from lethal injection—in a month.

MONEY TO BURN, Vol. 3
When a favorite client gets killed on her watch, Casey vows to find the killer no matter what killers, arsonists, rapists, and spoiled rotten socialites get in her way. Then, to the cynical sleuth's chagrin—everyone all around her starts falling in love…just before Casey herself is smitten.

Always a rip-roaring romp, these will appeal to fans of all female sleuth mysteries—private eyes like Sue Grafton's Kinsey Millhone, Sara Paretsky's V.I. Warshawski, Laura Lippman's Tess Monaghan, Marcia Muller's Sharon McCone, and Janet Evanovich's Stephanie Plum, as well as their tough and witty male antecedents. If you ever flipped over Philip Marlowe, Spenser, or of course, the immortal Wolfe and his buddy Archie, you'll fall in love with their direct descendant, Casey Jones, Private Eye.