Burned: Dragon Shifter Romance Series (Dragon Mates Book 3)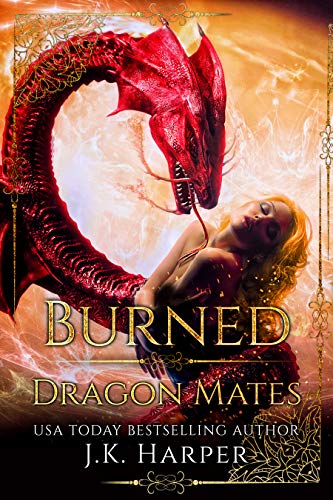 Burned: Dragon Shifter Romance Series (Dragon Mates Book 3)
by J.K. Harper
Beauty & the beast...with dragons!
Dark, dangerous dragon shifters who just need true love...

"Ash and Teagan were amazingly written characters, with such depth and real issues to overcome.""The perfect level of heat with a nail biting ending, I couldn't put it down."

Fire dragon shifter Ash Connolly hides his scarred body from the world. Burned in an accident, the reclusive billionaire sentenced himself to a life of solitude. Yet when he meets a mysterious sword-wielding beauty, he's tempted to bare his soul in hopes she will see the aching man beneath the grotesque beast.Tasked with repairing a priceless manuscript, geeky rare book conservator Teagan Lambert is dumbstruck by its sexy owner. A thousand illicit cravings smolder in her dreams, but an extraordinary man like Ash would never notice a bookworm like her, despite the fierce passion in her soul.But she is about to discover a dangerous hidden world filled with ancient magic, oracles of destiny, and a stunning dragon shifter man who tempts her lonely heart. Yet even as the blazing passion between them reveals a destined shared story, a deadly enemy plots a final ending...

To the reader: This story is filled with hawt times, sexy romance, and the dangerous secret world of dragon shifters. If you love shifters, bright lights in the big city, and the power of wild love to always triumph in the end, this book is for you.