Breaking IN: A Step-by-Step Guide to Starting a Career in Information Security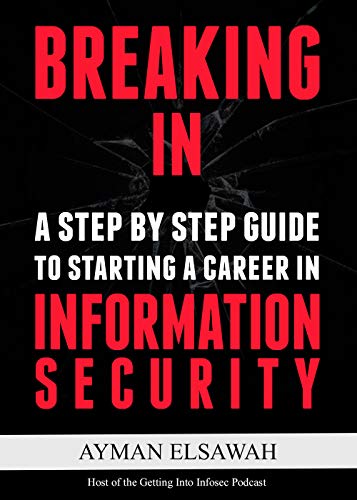 Breaking IN: A Step-by-Step Guide to Starting a Career in Information Security
by Ayman Elsawah
ON SALE FOR LIMITED TIME!
Are you NEW to the Information Security field?
LOST trying to figure a way to get a job as a Security Analyst?
OVERWHELMED by all the information out there and not sure where to start?
Can't afford $$$$ for certifications?
If so, this book is for you.
In this book, you will learn:
The Information Security Culture
Different jobs in the Information Security Field
The passion needed to be auccessful in the field
What life is like as an Information Security Professional
How to find the information you're looking for
Next steps to educate yourself
This book is designed to be the first book on your journey into a career in Information Security.

This book is for:
Those looking for a career in Information Security
Those looking to service the Information Security industry and want to understand more about it
Those who have been given the responsibility of Infosec (accidentally or not) and would like a primer on it
From the Author:
I have been asked time and again how to get into the field. If you sat me down for a couple hours, this is exactly what I would say. I tried to make this book as concise as possible so that it's easy to consume. Everyone's experience is different, so it's hard to put you in a mold, which is why I have the podcast to go along with it. The Podcast is a free resource anyone in the world can use to learn from other's experiences.
Ayman Elsawah is the Host of the Getting Into Infosec Podcast (gettingintoinfosec.com)
NOTE: This is a pre-release of the book. Audio and Paperback version will be released soon. This book is continuously updated regardless. Enjoy!