Bow-Wow Rescue (Dev Haskell - Private Investigator Book 23)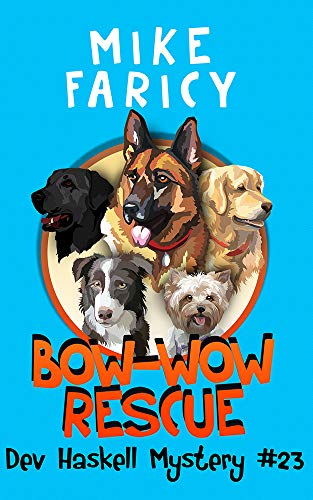 Bow-Wow Rescue (Dev Haskell - Private Investigator Book 23)
by Mike Faricy
BOW-WOW RESCUE
* Morton has found a new friend. Four of them, actually, all strays and
taking up residence at Dev Haskell's, when they're not thwarting crime.
* Real estate developer Seymour Smeelie is found dead in his office.
* Gorgeous Brianna Di Salvo is the prime suspect after she left notes
at Seymour's home, office, and car threatening to KILL him!
* Even though she dumped him three separate times,
and hasn't spoken to him in four years,
Brianna phones Dev for help!
*Dev Haskell's latest flame is named Taffy.
She's working on Dev-- She's got a lot of work to do!
Things are even crazier than usual...
Better Grab Your Copy NOW!
Read BOW-WOW RESCUE for FREE on Kindle Unlimited.
The Irish Gazette - Dev Haskell has a steady girl? Golden Retriver Morton has sleepover friends? Bow-Wow Rescue is another hilarious tale in Mike Faricy's Dev Haskell series.... Delightfully entertaining.
Crime Masters of America - Be sure to grab your copy of Bow-Wow Rescue. Sit back and be entertained by the latest work of genius in Mike Faricy's Dev Haskell series.
If you like Janet Evanovich, Terri L. Austin, Carl Hiaasen, Donna Andrews, Jana DeLeon, Donald E. Westlake, Barbara Silkstone, Alexander McCall Smith, Sue Grafton, K. J. Larsen, or Larissa Reinhart you'll love Mike Faricy's Dev Haskell series. Enjoy!