Bone Point (Gina Mazzio RN Medical Thrillers Book 8)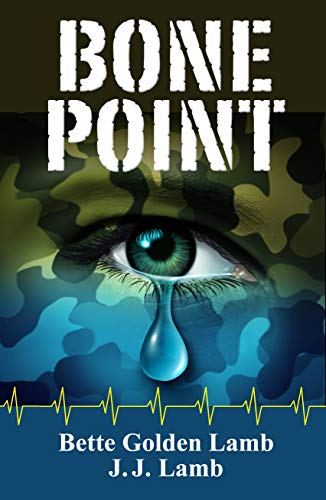 Bone Point (Gina Mazzio RN Medical Thrillers Book 8)
by Bette Lamb et al

BONE POINT
GINA MAZZIO RN MEDICAL THRILLER SERIES
Veterans are being murdered.

This is #8 in the fast-paced Gina Mazzio RN medical thriller series
BONE POINT will not disappoint

Long-time fans will rejoice—now we know love does conquer all. Gina is pregnant—this after doctors said it would never happen.
But five months into her high-risk pregnancy, Gina's veteran brother, who suffers from PTSD, vanishes.
Why has he abandoned everyone and everything?
Although under bed-rest orders, Gina takes off to find him.

What she discovers is that Vinnie's been swallowed up in a derelict, soon-to-close VA psychiatric hospital with a corrupt administration involved in greed, malevolence, and murder.
Vinnie could be the next to die.

This action-packed, shocking, take-no-prisoners tale of medical suspense is definitely not for the faint-hearted. But fans of the more hard-boiled medical thrillers (and also of Patricia Cornwell) will eat it up; as will lovers of strong women detectives, hospital mysteries, and all medical fiction, especially fans of Tess Gerritsen.

Advance praise for BONE POINT:

"The Lambs are real masters of taut action and edge-of-the-seat suspense. Bone Point is another outstanding entry in this exciting series of medical thrillers."
—Margaret Lucke, author of Snow Angel

Praise for the previous Gina Mazzio Books:

"Deftly plotted and artfully executed, Bone Pit is a compelling read that provides a shocking look at the world of contemporary medicine and Big Pharma."
—Sheldon Siegel, New York Times best-selling author

"SIN & BONE is a chilling, gripping thriller by a talented writing couple."
—Marcia Muller & Bill Pronzini, MWA Grand Masters

"BONE DRY ... a medical thriller not for the squeamish."
—Publishers Weekly

From The Authors:
Writing about RN Gina Mazzio and her boyfriend, RN Harry Lucke, has been a fun experience. It's also a privilege to tell about characters who dedicate their lives to helping others. Many of the people our protagonists work with (as in real life) spend each and every day, perhaps not with murder, but certainly in pain, distress, and danger. We hope most of our books bring the positive recognition that nurses deserve.

BETTE GOLDEN LAMB, a registered nurse, has developed parallel careers as a painter, sculptor, and ceramist. Her art works can be found in a number of galleries and private collections. In addition to co-authored books with J. J. , she has had three other books published: THE ORGAN HARVESTERS and THE ORGAN HARVESTERS BOOK II and THE RUSSIAN GIRL.

J. J. LAMB is a career writer - journalism, short stories, and novels. In addition to fiction co-authored with Bette, he is the creator of the Zachariah Tobias Rolfe III private eye series, the latest of which, NO PAT HANDS, was nominated for a Shamus Award.

The LAMBS live in Northern California and are members of International Thriller Writers, Mystery Writers of America, and Sisters in Crime.

BONE POINT is the eighth book in the Gina Mazzio RN medical thriller series, which includes BONE DRY, SIN & BONE, BONE PIT, BONE OF CONTENTION, BONE DUST, BONE CRACK, and BONE SLICE.
Also, SISTERS IN SILENCE, HEIR TODAY..., and THE KILLING VOTE were co-authored novels.
The Lambs also have three action-packed boxsets: Bone Set I, Bone Set II, and Smorgasbord of Suspense.