Blood of the Valkyrie (Valkyrie vs. Vampire Book 1)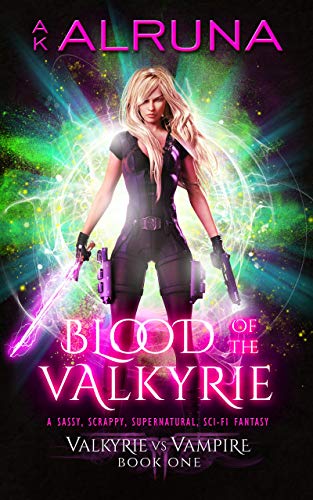 Blood of the Valkyrie (Valkyrie vs. Vampire Book 1)
by A.K. Alruna

One gains strength from the light. The other devours the night.
Tasked with policing supernaturals found on the wrong side of the Veil, Valkyries have protected Earth from otherworldly influences for centuries. Enhanced by the energy of the Sun and its golden rays, Odin's elite warrior maidens have long been feared and respected by those who have crossed into this world from other realms.
The hunter becomes the hunted...
Despite her cocky, crass façade, Bryn knows she's in over her head when she emerges from her crashed Bifrost Jumper to find herself the target of an aggressive Vampire strike team. Without her sisters, her magical weapons, or her powerful tech, fighting even a single Vampire in the dark is a certain death sentence. If the Valkyrie can't reach the safety of her ship by dusk, she'll have to face them all.
Bryn will need more than her sassy spirit and Valkyrie strength if she hopes to survive the night. Will the chance meeting of a mysterious young woman, and the help of a cunning rogue Vampire, give her the edge she needs?
★ • ★ • ★
Valkyrie vs. Vampire is an action-packed adventure with a strong female protagonist. It contains elements of both science fiction and fantasy, some sassy butt-kickery, a touch of romance, and a sprinkling of humor. I hope you enjoy it!
⚠ • WARNING: This book contains situations that some readers may find triggering. The story is intended to be fun, but it does contain strong language and violence (shooting firearms, as well as direct physical violence). There are sexual overtones (M/F and F/F), and moments of mind-control (vampiric compulsion).