Blackthorn Manor Haunting (Addison Lockhart Book 3)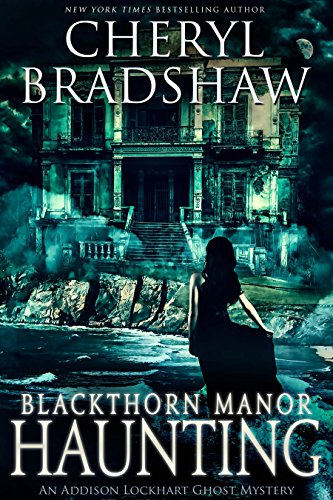 Blackthorn Manor Haunting (Addison Lockhart Book 3)
by Cheryl Bradshaw

"The characters are mature and smart, and the great reveal is a surprise." Marsha Jo, Vine Voice

A woman in black stares at the sea, her body transparent, eyes brimming with tears.

Hoping to get a better look at the woman, psychic medium Addison Lockhart leans out over the manor's windowsill, gasping when she feels an intense pressure pressing down on her back--someone thrusting her forward. She grabs the side of the window to brace herself, but it's too late. She's already falling.

Who is the strange, melancholy woman haunting Blackthorn Manor? And why is someone out to keep Addison from unlocking the manor's darkest secrets?

If you enjoy Neil Gaiman or Nora Roberts and mysteries with a supernatural twist, you'll love this fast-paced, bestselling series by a New York Times and USA Today bestselling author.

Praise for Blackthorn Manor Haunting:

"I couldn't put it down."

"Twists and turns the reader around so masterfully, I was blindsided at the ending."

"Held my interest until the end."

"Twists and turns you won't see coming."

"Spellbinding. Bradshaw is absolutely the best."