Better Than You Think: Developing Awareness for a More Fulfilling Life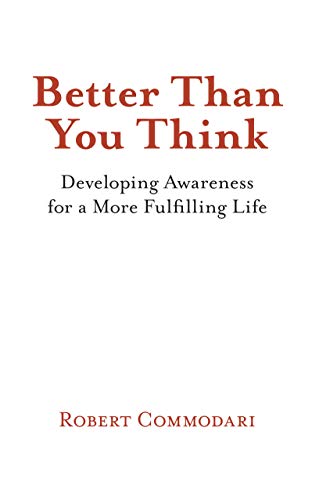 Better Than You Think: Developing Awareness for a More Fulfilling Life
by Robert Commodari
You know there's more to life than what you're experiencing now.
But how do you go deeper?​
Life today moves faster than it ever has before, and perhaps you're feeling the toll. You work all day, raise your children, slip in activities with your family and friends, and maybe take a few moments for yourself. But despite having a full life, you don't feel fulfilled.
Robert Commodari has been there. A husband, father of three, and a real estate professional, he lived frantically, moving through his days at ninety miles an hour and yet never feeling like he was getting anywhere. Desperate for change, Rob slowed down to reflect on the kind of man he wanted to be, and he had an epiphany: If he sought more meaning in his life, he had to start by focusing on what his experiences, big and small, meant in the greater scope of his existence rather than just rushing through each day blindly.
This was his first step on the path of awareness.
Awareness is not something that comes naturally. It takes work and mindfulness. In Better Than You Think, Rob uses his own experiences and stories to explain how a daily awareness practice will help you:
build the four traits that contribute to a fulfilled life


identify exactly what you want from life and how to get it


recognize and appreciate the blessings you already have


embrace the power of unconditional love
As you develop your own awareness with Rob as your guide, you will be inspired. Every day will bring new revelations about who you are and an understanding about who you are becoming. You will find peace with yourself and others, reducing the conflict and stress in your life. You will feel a deeper connection to God and your personal desires and passions, allowing you to confidently share your wisdom with friends and family.
When you are aware of your experiences and their meaning, you will find the satisfaction and joy you seek. Begin your journey to a more fulfilled life today.