Becoming Crone: A Paranormal Women's Midlife Fiction Book (The Crone Wars 1)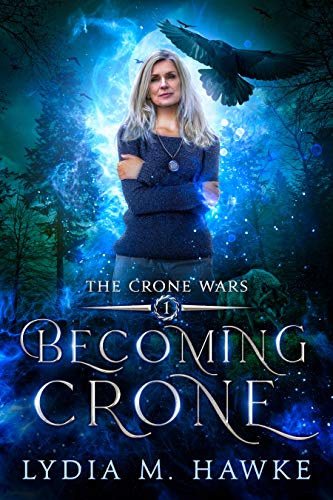 Becoming Crone: A Paranormal Women's Midlife Fiction Book (The Crone Wars 1)
by Lydia M. Hawke

She wanted purpose. She got dark magic and war.
Claire Emerson is adrift. After a lifetime as a wife, mother, and grandma, she never saw divorce or loneliness coming and is desperate for some sense of purpose. But when her sixtieth birthday brings a snarky gargoyle, an annoyingly sexy wolf shifter, and an unknown magical calling, she thinks she's losing the only thing she has left: her sanity.
Refusing to believe she's the powerful defender of humankind her so-called protectors claim, Claire attempts a return to her safe life... only to have her powers ignite when she's attacked by dark supernatural creatures. And without the training she was supposed to have received, she has no idea how she'll defeat sinister mages plotting her demise.
Can Claire overcome creaky joints and major hot flashes in time to save the world - and her own life?