B.O.L.D: The Freedom Formula for Health & Happiness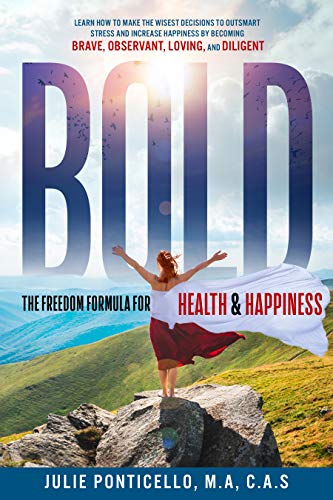 B.O.L.D: The Freedom Formula for Health & Happiness
by Julie Ponticello M.A. C.A.S.
This book is for those who feel stressed out and are trying to gain control of their well-being. If you want to experience the life filled with health and happiness that you used to think you would have, then this book can help you get there! B.O.L.D is a hybrid of self-help and memoir that allows you to enter the mind of a psychologist as she gets to the bottom of common stresses in life that millions of us experience. Anxiety, anger, and a digestive mystery propel her into a journey to gain control over her health and happiness. Through her story of self-exploration she OVERCOMES anxious and frustrating thoughts that tarnish health and happiness, defeats challenges at work, deciphers and balances issues in personal relationships AND provides the reader brief and easy exercises to do the same along the way! Genetic predispositions and the ability to turn genes on or off are discussed as are environmental triggers from food choices to upbringing.
In this book YOU will Learn:
•The four most important concepts to combat stress and increase YOUR happiness.
•A quick, easy activity to identify which of the four concepts are appearing in your challenges.
•How to move through intense emotions and physical discomforts that arise from attacks of anxiety and anger and feel in control of your mental and physical state.
•Different scientific strategies (alternative & conventional) that can allow you to harness power over your life.